Trip Information
Dates: December 4 – 18, 2023 and January 1 – 16, 2024
Cost: USD $70,000
Trip begins in Punta Arenas, Chile

Our South Pole Expeditions for 2023-'24 Season
Our Antarctica expeditions are led and managed by IPGA Polar Guide, Ryan Waters. In 2010, Ryan and Cecilie Skog completed a 1,117 mile/1,800 kilometer Antarctic ski expedition over 70 days from Berkner Island in the Ronne/Filchner Sea to the South Pole, continuing to the Ross Sea to complete the first ski traverse of continental Antarctica without resupplies or the use of kites. He and Eric Larsen skied unsupported to the North Pole in Spring 2014, completing the journey in 53 days, making Ryan the first American to complete the True Adventurers Grand Slam with unsupported/unassisted coastal start ski trips to both poles. He is the first American to ski unsupported/unassisted coast to pole trips to both poles and has also guided a 44 day trip to the South Pole via the Messner/Fuchs route and 53 day Hercules Inlet start trip to the Pole.
Ryan Waters, one of the world's premier Polar/High Altitude Guides, and a Master Polar Guide, will organize and plan the South Pole expeditions
Personalized pre-trip communication with your South Pole guide with advice on clothing, training, and recommendations. Of the few companies guiding these trips, several may not know who is actually guiding your trip until late in the process. With Mountain Professionals, you have direct communication with your Polar Ski guide from sign up.
We plan on running up to two Last Degree South Pole Ski expeditions in the 2023-24 season. Contact us for details on joining the trip.
Our team of guides brings significant polar expedition skills from past South Pole, North Pole, and Greenland expeditions.
Let Mountain Professionals take you there
Want to learn more about skiing the Last Degree to the South Pole, with the premier polar guides? Contact us today and we will give you all the info you need.
Highlights of our Trip
Veteran American Polar Ski guides to ensure seamless delivery and safety procedures
Access to satellite phone and email, dispatches of the team progress on our news site
Emphasis is placed on providing high end logistics, staff, equipment and meals to a small team of skiers
Photo Gallery
South Pole Expedition Trip Description
Please note that we recommend interested participants on South Pole last degree trips, plan to take a polar ski training prior to the expedition. Planning ahead is the best way to prepare. With more mountaineers expressing interest in Polar Ski journeys, they often underestimate the difficulty and different skill set required to complete a South Pole Last Degree Ski expedition.
We have great options for Polar Ski Training and would recognize similar trainings by a respected instructor or can provide private instruction if needed. If you are interested in a future expedition to Antarctica, the best way to have a safe and successful expedition is to take a polar ski training course. So please do plan ahead and talk with us about how to gain the skills in advance.
The South Pole Last Degree ski expedition is an incredible adventure and a huge accomplishment set on the coldest, windiest, and driest continent on earth. Join our qualified Mountain Professionals guides for a ski trip covering the last 60 nautical miles to the South Pole. Our team is well positioned to offer the highest level of polar guiding experience. Our staff includes polar adventurers with in-depth knowledge gained on multiple North Pole, South Pole, and Greenland expeditions.
The trip itself begins in Punta Arenas, Chile, where we prepare our expedition sleds, food, fuel and supplies. We take great care in our pre-trip planning to develop a strong and efficient team. It crucial to have a well prepared, highly functional group for travel in Antarctica.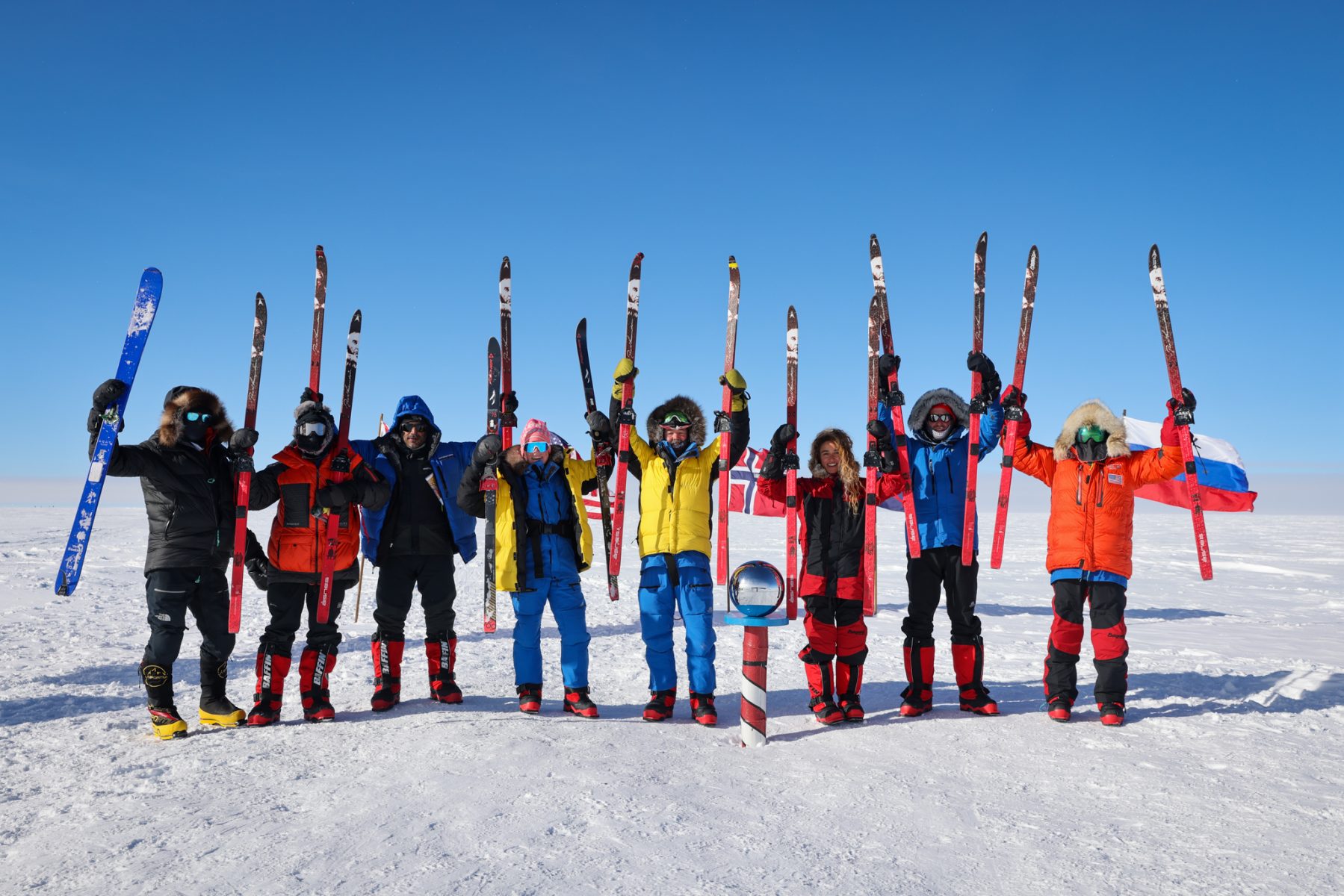 We fly from the southern tip of Chile to Union Glacier on the continent of Antarctica where we will take some time to acclimate to our new surroundings. This allows an enjoyable and beautiful "warm up" ski tour around the surrounding landscape prior to the flight to our starting point at 89 degrees South latitude or approximately 60 nautical miles from the geographic South Pole.
Our team of guests and guides will travel across large expanses of wind carved snow and ice features on the surface of the Antarctica plateau. Each day will involve melting snow for water, making meals, planning our route for the day by following a compass bearing, and skiing as a team for up to eight hours.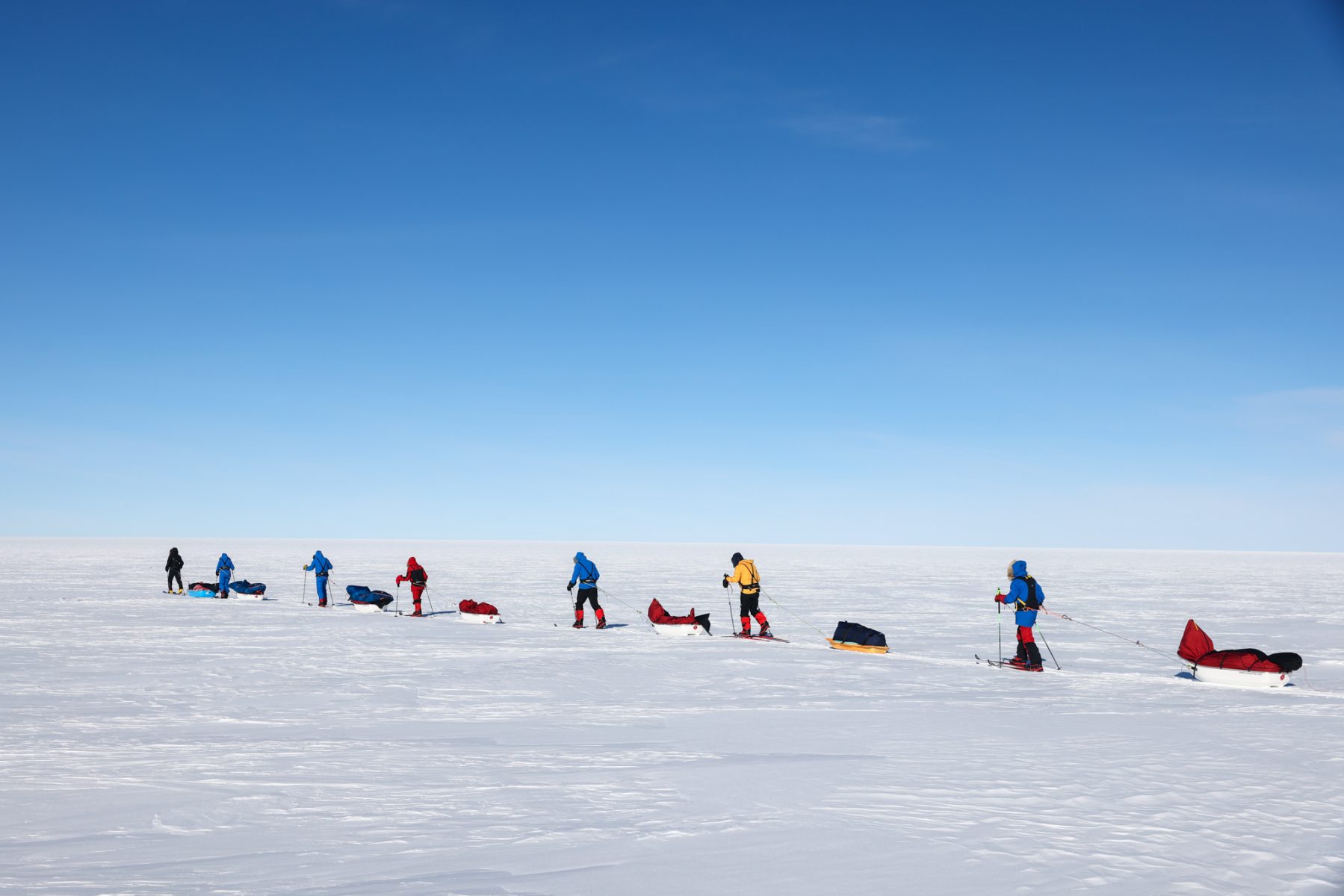 We will take care to ease into our schedule as we have jumped up to about 9,000 feet above sea level. Each day will include several sections of skiing in blocks of 45 minutes to slightly more than an hour. Our breaks are a time to rehydrate and eat throughout the day and eventually reach camp in the late afternoon. As a group, we will set up tents and begin melting water for dinner and enjoy the comforts of tent life as the sun circles around above the horizon in 24-hour light of the Antarctica Summer and spot the South Pole station out on the horizon and feel the anticipation of success at the geographic South Pole! Our goal will be to reach the geographic South Pole in good style and enjoy a safe, successful visit to Antarctica.
Projected Itinerary
Day 1: Arrive Punta Arenas, Chile. Team transport to our hotel.
Day 2: Prepare and check equipment. We will have time on this day to visit the sites in Punta Arenas. Briefing and slideshow provided by our local logistics operator which will cover all aspects of the flight to Union Glacier, Antarctica and the onward flight to 89 Degrees South. Our equipment is collected at mid-day for loading onto the Antarctica bound aircraft. From this point we are on standby for our flight to Union Glacier.
Day 3: Depart for Union Glacier Weather dependent we will fly approximately 4 hours south and land on the blue ice runway at Union Glacier. Our team will put up our sleeping tents and be treated to a meal in the base camp.
Day 4: Practice day on the ice. We will ski around the Union Glacier camp and get acclimatized to our systems and the environment.
Day 5: Fly to 89 Degrees South
We fly by Twin Otter aircraft to our start point 60 nautical miles from our goal and have a short ski day.
Day 6-13: Ski to the South Pole.
Day 14: Fly to Union Glacier. Fly in the Twin Otter aircraft back across the immense plateau and reach the comforts of Union Glacier camp where we have a big celebration and enjoy the achievement.
Day 15: Fly to Punta Arenas. We will be on standby ready to fly back to the mainland Chile. Once we get word, we pack up our bags onto the transport and board the plane for Punta Arenas. We are taken back to our hotel for a very welcome shower! In the evening we will enjoy a celebration dinner in one of Punta Arenas' excellent restaurants.
Day 16: Depart Punta Arenas for home.
South Pole Expedition Trip Costs
Trip Cost Includes
Mountain Professionals polar guides.
Airport arrival pickup and hotel transfer.
Flights from Punta Arenas, Chile to Union Glacier, Antarctica and return.
Flights to start point and return from the South Pole.
Accommodations in Antarctica in Hilleberg Keron 4 GT tents.
All transportation, according to the program.
Acapulka 170 specialized polar ski sled
Personal specialized gear – Asnes skis, Rotafella bindings, ski boots, pulling harness.
All permits and fees.
All meals according to the program after leaving Punta Arenas.
Group equipment, tents, stoves, fuel, safety, first aid, etc.
Navigation equipment, compasses, GPS, maps.
Communication, satellite phones, daily dispatches.
Dispatches with photographs and abilty to email via satellite system.
Price does not include
International Airfare to and from Punta Arenas, Chile.
Food, beverages, while in Punta Arenas, Chile.
Lodging costs in Punta Arenas, Chile.
Cancellation, Medical, and travel insurance (mandatory).
Personal clothing and equipment.
Insurance Policy.
Expenses of personal nature.