Trip Information
Dates: July 19 – 31, 2024
Mount Elbrus Climb Cost: USD $5,200
Trip begins in Moscow, ends in St. Petersburg, Russia

Mount Elbrus Climb Expeditions – 2024 Season
Highlights of our Mount Elbrus Climb expeditions for the 2024 season include:
Snow cat from hut to Pastukhova Rocks included for a shorter summit day
Climb the highest peak in Europe with our experienced American and Russian guide staff
Experience both Moscow and St. Petersburg, plus the Caucasus Mountain Region
Let Mountain Professionals take you there
Want to learn more about climbing Elbrus, the highest mountain in Europe? Contact us today and we will give you all the info you need.
Recent Dispatches
Photo Gallery
Highlights of our Trip
Plenty of extra days built into the schedule for summit flexibility
Meals prepared by our local chef throughout the climbing expedition
Veteran Russian speaking assistant mountain guide and American mountain guides with over a decade of guiding in Russia ensure seamless delivery
Comfortable dining huts on the mountain, access to satellite phone and internet, daily dispatches of the team progress
Private transports and high quality accommodations
Mount Elbrus Climb Trip Description
Join Mountain Professionals for a climb of this beautiful and accessible mountain in the heart of Baksan Valley of the Caucasus Mountain Range.
First climbed in 1829, Mt. Elbrus is the highest mountain in Europe and an excellent experience for the aspiring mountaineer. Standing 18,510 feet above sea level, a Mount Elbrus climb is the perfect challenge for those who have had some experience with mountaineering and are looking to test themselves at high altitude or on the 7 summits quest to climb all of the highest summits on each of the seven continents. Elbrus is a great next step on the road to peaks such as Aconcagua with Mountain Professionals.
Mount Elbrus is accessible from Moscow via an internal flight to the town of Mineralnye Vody. From here we take a 3 hour private van transport to the mountain village of Cheget and acclimatize in route to the mountain. We will spend several nights in the village to take in the views and culture before making our way to the start of the climb. A short drive brings us to the base of the mountain and a cable car ride to the Low Huts. Here we will take a day to relax, hike and acclimatize.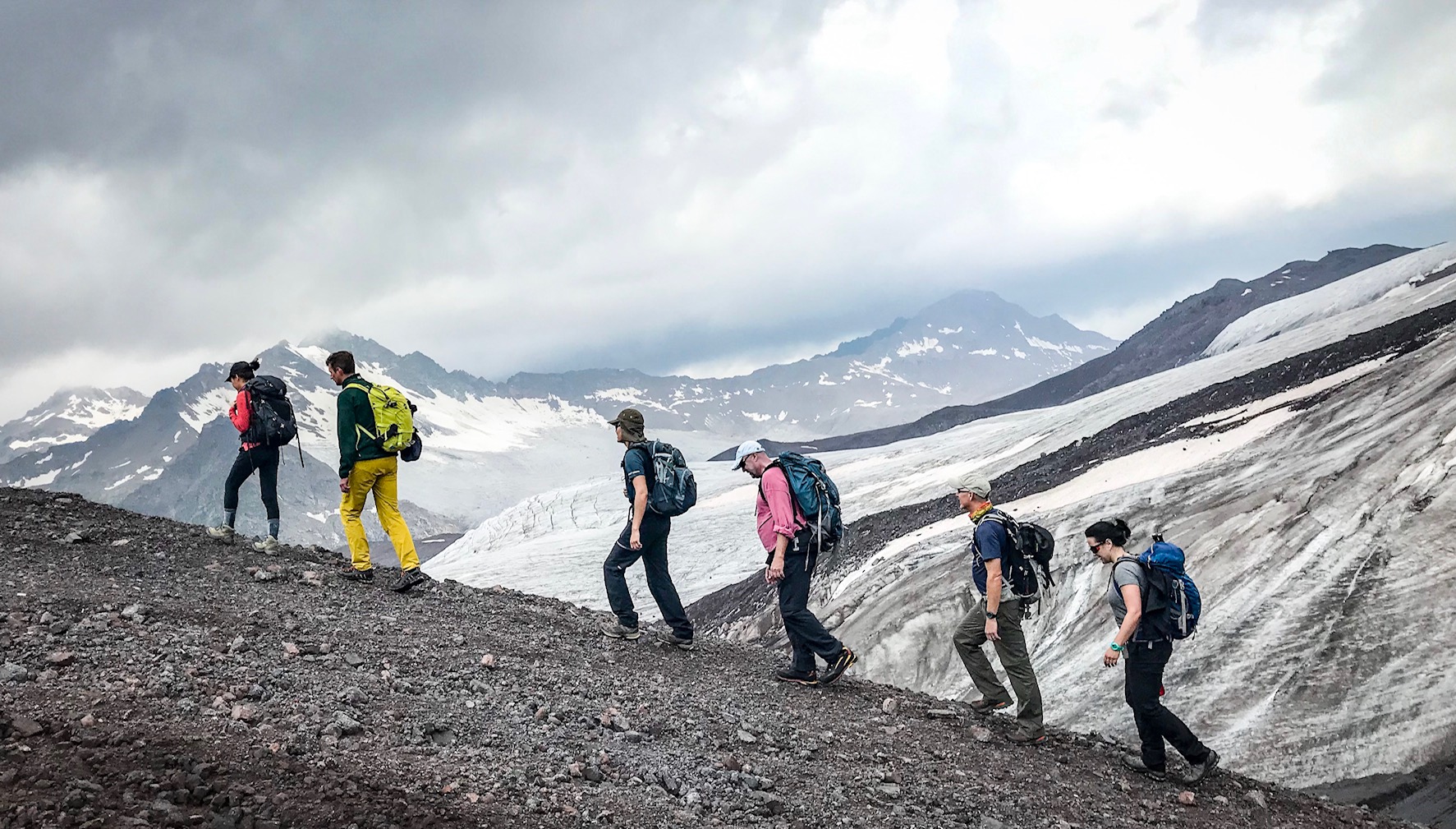 The following day we will ride an additional chairlift up to our high camp location at the Pruit Hut. This will be our base for the climb to the summit. We will use the slopes above to acclimatize and review basic skills. From the hut we will make a final climb up to the Pastokhov Rocks at 15,000′ in order to properly acclimatize prior to our summit climb.
The route travels via moderate snow and ice slopes up the glacier. After several hours ascending snow the slopes above Pastokhov Rocks, we begin to traverse toward the saddle between the East and West summits. A traverse along moderate terrain, leads to the West summit of Elbrus.
After the climb we will join in a celebration dinner back in the hotel and then transport back to St. Petersburg for the culmination of the expedition. You are free to build in extra time and see this amazing city, which is one of the most popular tourist destinations in Russia.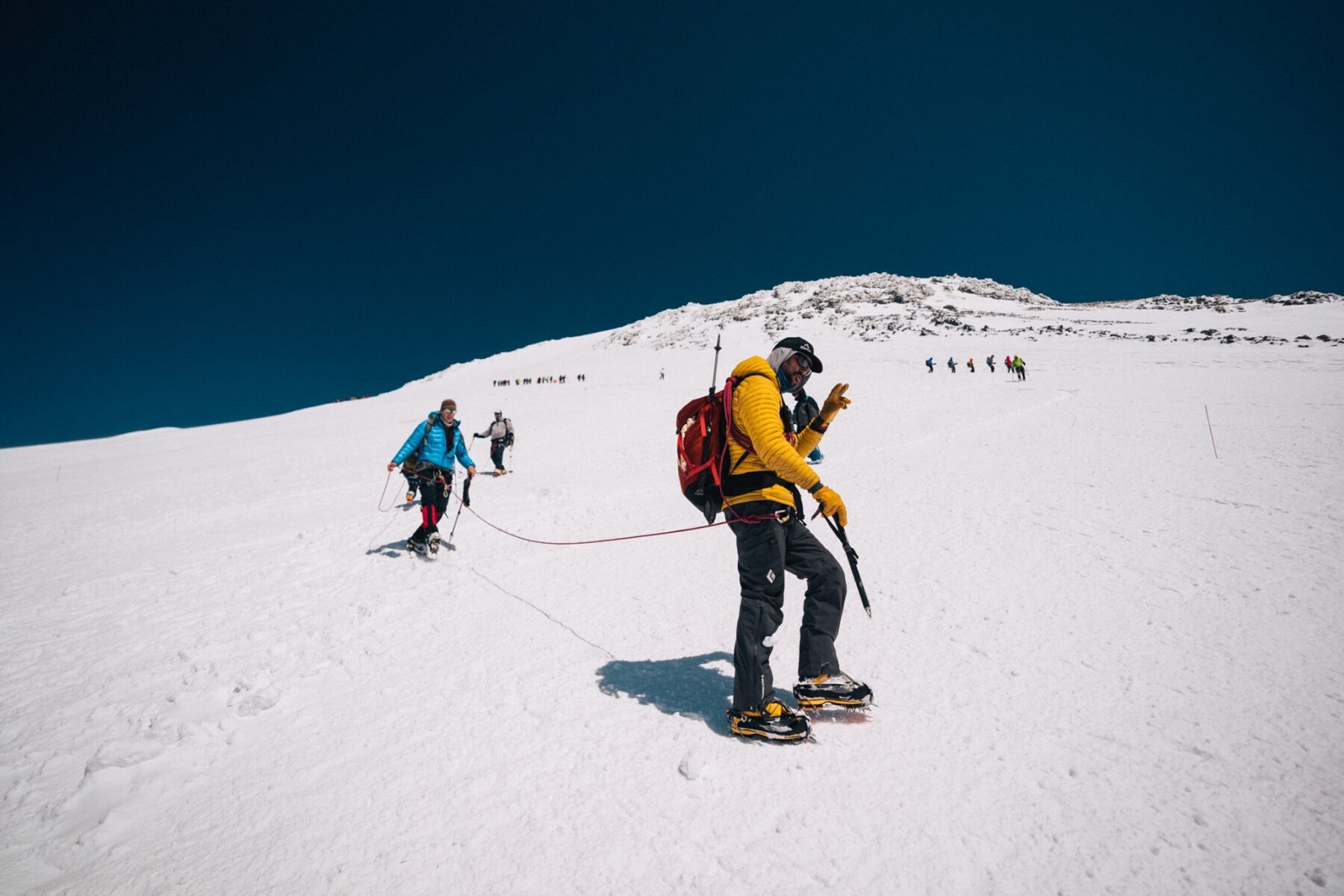 Projected Itinerary
Day 1: Arrive in Moscow transport to the Sheraton Palace Moscow
Day 2: Expedition overview, gear check & private tour of Moscow sights and famous landmarks
Day 3: Transport to Mineralyne Vody via internal flight and hotel in Baksan Valley, Hotel Night.
Day 4: Day hike and acclimatization via chairlifts in Cheget up to 11,800 ft. Hotel Night.
Day 5: Ride the cable car to toward the Low Hut, acclimatization walk on Elbrus, Hotel Night.
Day 6: Ride the cable car to high huts, use this hut as base for our climb 14,000 ft.
Day 7: We climb to acclimatize to the Pastukhov Rocks located at over 15,000 ft.
Day 8: Summit day to the West summit of Elbrus
Day 9: Extra day for summit attempt
Day 10: Extra day for summit attempt
Day 11: Return to the valley and overnight in the Hotel Povorot
Day 12: Transport to Mineralyne Vody airport and return to St. Petersburg hotel, visit the city.
Day 13: St. Petersburg Airport transfer if you leave/Flights home
Mount Elbrus Climb Trip Costs
Mount Elbrus Climb Trip Cost Includes
Mountain Professionals guides.
3 Nights accommodation in Moscow/St. Petersburg at a 4-star hotel.
Airport pickup upon arrival in Russia.
Moscow day city tour.
Internal domestic flights and transports to/from Mineralyne Vody.
Visitor invitation to Russia.
Registration with OVIR.
All mountain transports.
Baksan Valley hotel all nights in Hotel Povorot.
All hut or camping fees for the climb.
All meals and cooking utensils on mountain.
Snow Cat transport on summit day to Pastukhov Rocks.
Price does not include
Items of personal nature, individual travel costs, delays, taxis, etc.
Personal Russia entry visa.
Personal clothing and climbing gear.
International Airfare.
Personal clothing or gear.
Alcoholic drinks and personal snacks.
Recommended Travel/Trip Cancellation Insurance.
Excess baggage fee on Domestic Flight over 23 kg. limit.
Staff gratuities.