Trip Information
Dates: January 14 – 21, 2023
Cost of Trip: USD $3,500
Trip Begins in Minnesota, USA
We have run the Polar Expedition Training every season since 2014, all were a great success. Many of our participants have gone on to complete expeditions in Polar environments including successful ski trips to Greenland, the South Pole and Last Degree Expeditions to both poles.
Contact us for information regarding the training course which will be held each winter season.

Let Mountain Professionals take you there
Want to learn more about our Polar Expedition Training, the most thorough program in the world? Contact us today and we will give you all the info you need.
Trip Description
Join Mountain Professionals Polar Adventurer and Expedition Guide Eric Larsen for a week-long immersion into the world of winter travel and polar expeditions. This course takes place on Lake of the Woods in Minnesota. Learn valuable skills and techniques that will allow you to travel comfortably, safely and efficiently in cold and snow. Special emphasis is placed on learning the necessary skills and systems required with planning your own winter adventure, whether it is just a weekend excursion or an expedition to one of the poles.
Based out of a remote cabin, this course is designed to teach the skills associated with modern-day polar travel while completing a 'mini' expedition. After spending the first three days alternating between indoor instruction and outdoor practicals, students will embark on a four-day traverse of realistic polar conditions. With temperatures well below zero and conditions nearly identical to the poles, this adventure will provide a challenging, yet safe, opportunity to experience the many facets of expedition life.
Topics covered
Polar Travel Philosophy, Fitness and Training, Logistics, Navigation, Daily routines and Travel Techniques, Clothing, Equipment, Communications, Safety and First Aid, Polar Bears and Wildlife, Electronic logistics, navigation, expedition nutrition and menu planning, food preparation, safety and first aid, managing electronics, crisis management and fundraising.
Upon completion of the course, participants will receive a certificate of completion (to be used as reference) as well as a 3-5 minute video recap and portfolio of professional quality images.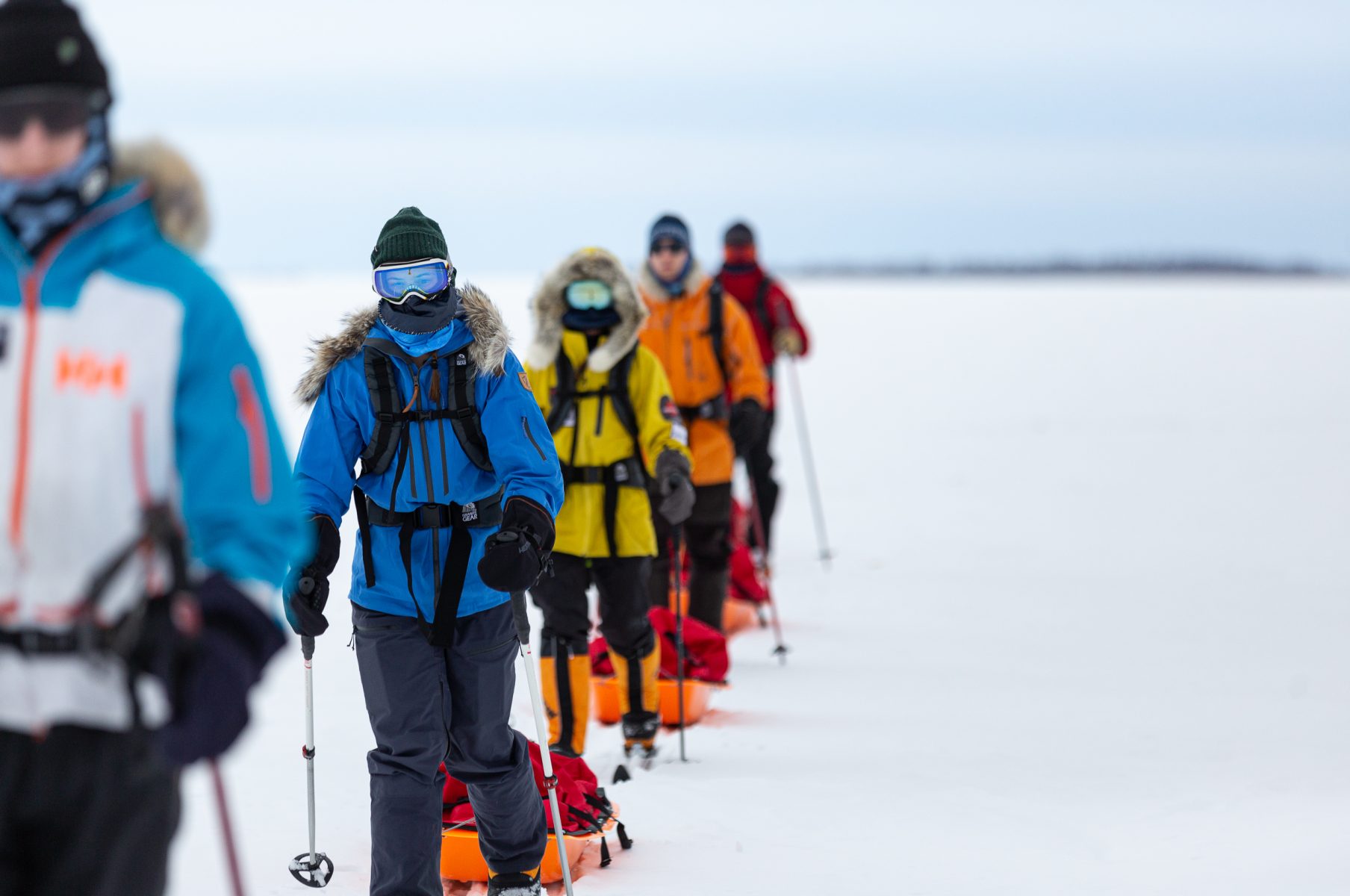 About Eric Larsen (Guide)
Polar adventurer, expedition guide, dog musher and educator, Eric Larsen has spent the past 15 years of his life traveling in some of the most remote and wild places left on earth. In 2006, Eric completed the first ever summer expedition to the North Pole. In 2010, he completed a world-record expedition to the South Pole, North Pole and top of Mt. Everest all within a 365-day period. He is one of the premiere polar guides on the planet and has successfully led more full-length polar expeditions than any other American in history.
About Ryan Waters (Expedition Manager/Guide)
In 2010, Ryan Waters and Cecilie Skog completed a 1,117 mile/1,800 kilometer Antarctic ski expedition over 70 days from Berkner Island in the Ronne/Filchner Sea to the South Pole, continuing to the Ross Sea to complete the first ski traverse of the Antarctica mainland, without resupplies or the use of kites. He and Eric Larsen skied unsupported to the North Pole in Spring 2014, completing the journey in 53 days, making Ryan the first American to complete the True Adventurers Grand Slam with unsupported and unassisted coast to pole trips to both poles. He is the first American to ski unsupported and unassisted coast to pole trips to both poles. He has guided clients on a 44 day coastal start unsupported Messner/Fuchs route and 53 day coastal start, unsupported Hercules Inlet route trips as well as several Last Degree trips to the South Pole. Ryan has a Master Polar Guide certification from the IPGA.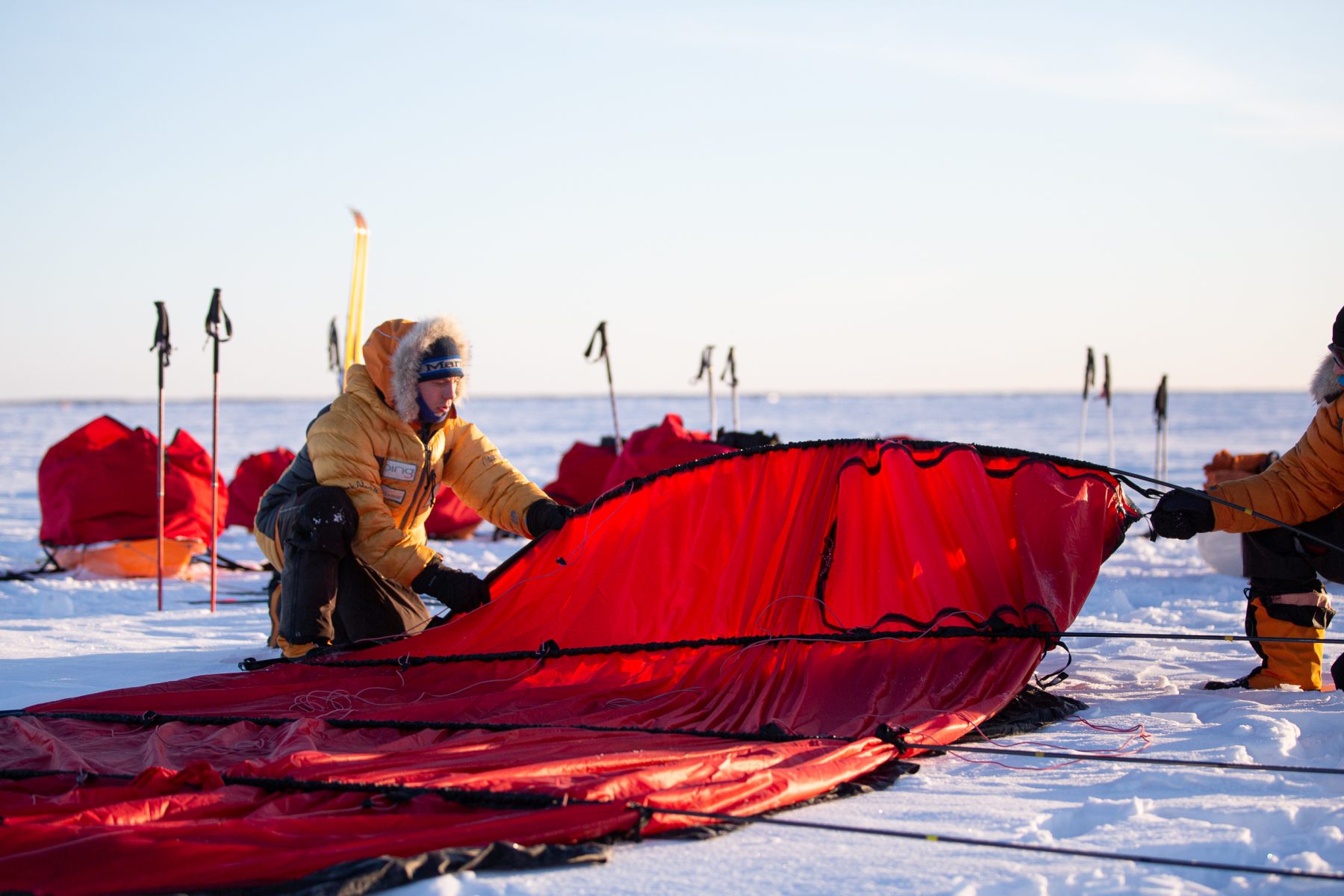 Trip Itinerary
Day 1. Arrive at trip start location and check in to the Hotel.
Day 2. Morning meet at Hotel. Gear check and review. Transfer to Cabin near. Evening presentation: Melting; Last Race to the Pole.
Day 3. Cabin. Finalize food packing (if necessary). Items to be covered: polar travel, philosophy, history, geography, logistics, daily routines, travel techniques and navigation. Evening Presentation: First Summer Expedition to the North Pole.
Day 4. Cabin. Items to be covered: food, nutrition and food preparation as well as general expedition training and preparation. Expedition Food Pack. Evening Presentation: Dog Sledding.
Day 5. Cabin – Depart . Items to be covered: Equipment overview and repair with a focus on first aid and safety, communications, and polar bears, expedition electronics, fundraising.
Days 6 – 7. Expedition Travel Days.
Day 8. Expedition Travel Day. Return to cabin by noon. Drive team to hotel.
Day 9. Fly Home
Trip Costs
Trip Cost Includes
Mountain Professionals polar instructors.
Accommodations on trip in tents and in small lodge.
All transportation, according to the program.
Personal specialized gear – sleds, pulling harness.
All meals according to the program after leaving hotel.
Group equipment, tents, stoves, safety, etc.
Navigation equipment, compasses, GPS, maps.
Communication, satellite phones, dispatches.
Price does not include
International Airfare to and from trip start.
Food, beverages, while in arrival / departure city.
Skis, Boots, Bindings, Poles. Personal Gear needed for future trips.
Lodging costs in hotel on February 11th and 18th.
Cancellation, Medical, and travel insurance.
Personal clothing and equipment.
Expenses of personal nature.