Trip Information
Dates: January 3 – January 21, 2022 / January 29 – February 16, 2022
Cost of Aconcagua Climb: USD $5,300
Trip begins in Mendoza, Argentina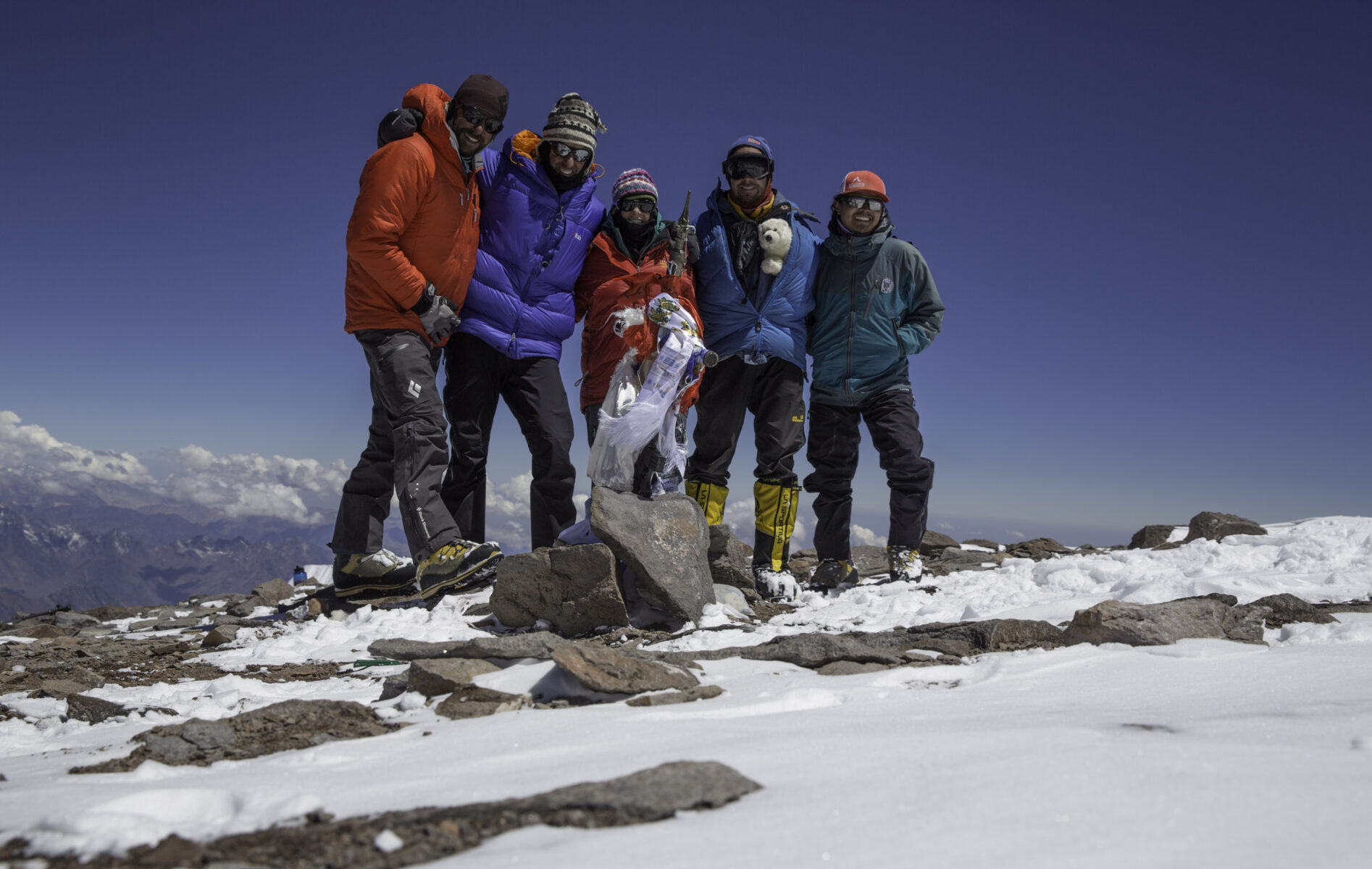 Aconcagua Climb Expeditions – 2022 season
For the 2022 season, we have developed our schedule on the Aconcagua climb to include:
Accommodation at our 5 star Hotel Diplomatic in Mendoza
Porter assisted Aconcagua climb: 1 porter per 3 climbers included in trip cost
3 camps on the mountain with a shorter summit day
Normal Route with short access to the mountain and acclimatization at Confluencia
A single day trek out from Plaza de Mulas at the end of the trip
Optional Helicopter departure from base camp option available for a fee
Let Mountain Professionals take you there
Want to learn more about climbing Aconcagua, the highest mountain in South America? Contact us today and we will give you all the info you need.
Highlights of our Aconcagua Climb
Plenty of extra days built into the schedule for summit flexibility
Porter support built into the program for group movement days between camps
Base camp meals prepared by our local cook staff in a full kitchen
Veteran Spanish speaking American mountain guides with over a decade of guiding in Argentina ensure seamless delivery
Comfortable carpeted and heated dining tent at base camp
Access to satellite phone and internet, daily dispatches of the team´s progress
Emphasis is placed on providing great meals while on the expedition
Stylish accommodation in Mendoza to enjoy the wine capitol of Argentina
Our expeditions will utilize 3 camps on Aconcagua during our climb. Our recent experience shows that adding a third, higher camp will greatly increase the summit chances for all climbers.
We will use the normal route variation which includes a high camp 3 at the Colera (19,500 ft., 5943m). After climbing the normal route and reaching the summit, our team will return to high camp for rest before descending the normal route into the Plaze de Mulas Base Camp.
The Aconcagua Climb Experience
Aconcagua offers mountaineers and fit adventurers the chance to climb on a big mountain expedition in a relatively short period of time. We climb a (non-technical) route allowing climbers to gain high altitude experience on a route which can be relatively safe from objective dangers. Climbers can concentrate on testing their own high altitude ability and many will use this climb as a stepping stone to additional mountain objectives.
Mountain Professionals has over 18 years of experience leading expeditions to the summit of Aconcagua. Our senior guides have lived and worked in Argentina for many years and have developed an all around fantastic trip to climb Aconcagua. From our very comfortable hotels to the private transports and superb base camp meals, we have fine-tuned each and every detail along the way for a seamless experience.
While at base camp, we enjoy a comfortable dining tent with table and chairs, each meal is cooked by our local staff including fresh bread, meat, vegetables, deserts and more.
The Mountain Professionals Difference
Our expeditions to Aconcagua are limited to 8 clients, ensuring a small team, personalized feel to each trip we run. We invite you to join a Mountain Professionals Aconcagua expedition and experience the best all around trip available.
The entire trip was simply awesome! Ryan and Dave did an incredible job from the very beginning; Aconcagua was my 17th climb in the past year and from the get go I could tell that they were very professional and knew exactly what they were doing. I know I'll be climbing again with them soon!

Rudy Z.

As an Austrian I have been climbing in the mountains all my life. Most of the time supported by experienced guides. Very rarely did I encounter guides like Ryan and Tomas during our February 2019 Aconcagua expedition. Despite adverse wind conditions the guides kept their nerves and calm and ultimately guided the entire team up the mountain on a beautiful day. A 19 day trip, full of sometimes difficult decisions, not one mistake and ultimately crowned by a full team success. All of this with great consciousness about the safety of the team and the individual condition of the team member. This cannot be done better. "

Gerhard H.
Photo Gallery
Trip Description
Cerro Aconcagua is the highest mountain in the world outside the Himalayas. It stands as the highest peak in South America and one of the 7 summits or the highest mountain on each continent.
Recent Trip Results
February 2020 – Summit
February 2019 – Summit
February 2018 – Summit
February 2017 – Summit – Dispatches
December 2016 – Summit – Dispatches
December 2015 – High Camp – Dispatches
February 2015 – Summit – Dispatches
January 2015 – Summit – Dispatches
January 2014 – Summit – Dispatches
December 2013 – Summit – Dispatches
February 2013 – Summit – Dispatches
February 2012 – Summit – Dispatches
February 2011 – Summit – Dispatches
Additional Information
Aconcagua Climb Preparations
Our expedition to Aconcagua climbs a route that is not technical in nature, however it is a big undertaking. There are long days and the weather can be extreme in this unique environment. Our goal on the trip is to be safe and have fun on the mountain. So arriving with a good attitude and in good shape makes things a whole lot more enjoyable. Training for a big mountain expedition is important and we work with you on an individual contact basis for several months in advance of the trip to suggest a program.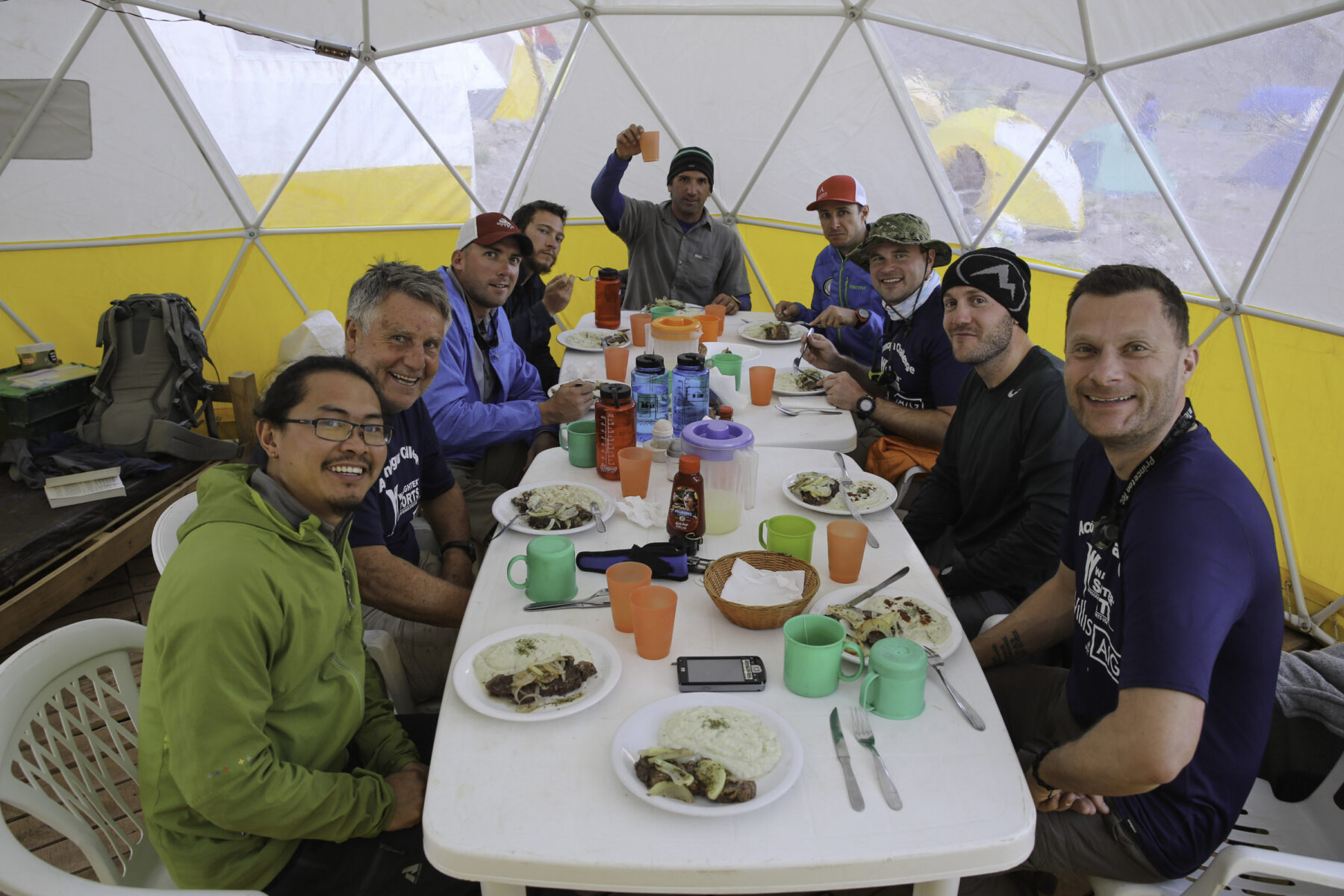 Aconcagua Climb Prerequisites
Team members should have a basic understanding of mountain expedition living that could include a previous mountaineering course and/or climb of a lower elevation mountain. We recommend experience walking in crampons and use of an ice axe. You should also have previous high altitude experience that could include an ascent or two of mountains such as Rainier, Shasta, Mt. Blanc, Mexican Volcano summit or other comparable high altitude climbing experience. You should also be in excellent physical condition.
I have never had more confidence in any ones abilities than in Ted Alexander's. The summit of Aconcagua was a long trip in difficult conditions, being able to see all the way to the Pacific made every step worthwhile.

Ciaran W.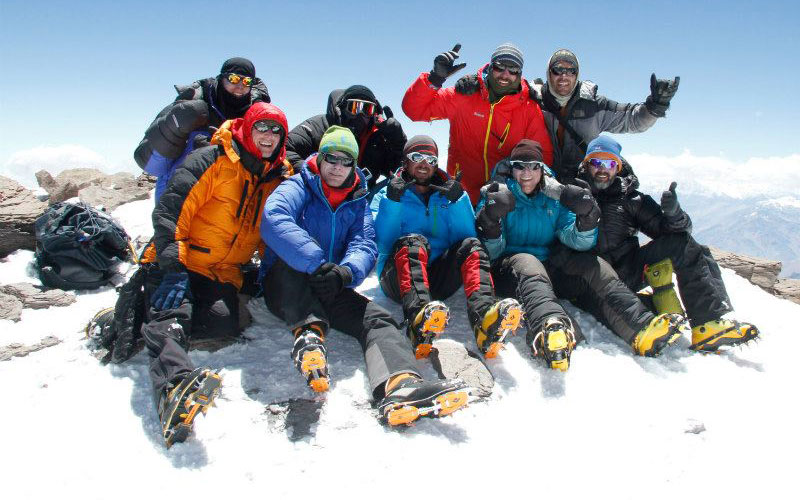 Trip Itinerary
Day 1: Arrive in Mendoza and met by our staff for transport to our hotel. Evening meeting, gear check, change money, group dinner.
Day 2: Finalize any details and guide purchase climbing permits for you at the Permit Office in Mendoza. Private transport to Penitents and sleep in hotel.
Day 3: Drive to Punta del Inca trailhead and begin the hike. Walk approximately 4 hours to Confluencia Camp. Easy trail walking and mules carry our baggage each day to basecamp.
Day 4: Rest day and acclimatization in Confluencia Camp. Walk for approximately 7 hours to Plaza de Mulas Base Camp. Easy trail walking.
Day 5: Walk for approximately 7 hours to Plaza de Mulas Base Camp. Easy trail walking.
Day 6: Rest Day in Basecamp. Plaza de Mulas (4000m).
Day 7: Carry loads for acclimatization to Camp 1 (Camp Canada) 5000m walking on scree and ice mixed with rock. 4-6 hours. Return to basecamp.
Day 8: Rest day in basecamp.
Day 9: Move to camp 1.
Day 10: Carry loads for acclimatization to camp 2 (Camp Nido Condores) walking on scree and ice or snow. 6 hours. Return to camp 1 to sleep.
Day 11: Return climb to camp 2. Move into camp 2.
Day 12: Rest Day in Camp 2.
Day 13: Move to Camp 3 at Colera Camp (19,500 ft./5943m).
Day 14: Climb the switchbacks of rock and snow up the normal route to Independencia Hut and continue up through the Canaleta to the summit (6962m). Return to High Camp for sleep.
Day 15-16: Extra days allowed for bad weather or additional acclimatization needs or adjustments to the schedule by the guide staff. (B,L,D)
Day 17: Descend to Plaza de Mulas basecamp.
Day 18: Hike out the Horcones Valley to Punta del Inca gate and transport to Penitentes and transport on to Mendoza for Celebration. Hotel Night.
Day 19: Departure flight day to home country (Return Flight).
Aconcagua Climb Trip Costs
Trip Cost Includes
Mountain Professionals Guides.
Transfer from airport to our hotel.
Hotel Diplomatic (5 star) in Mendoza (double occupancy) for two nights.
Breakfasts in Mendoza.
Private team transfer to and from Pentitentes.
Full mountain services, meals, group equipment, tents.
Shared Porter service for group gear at each movement to a new camp climbing day and from Camp 3 down after summit.
Full basecamp services with a heated and carpeted dome dining tent, basecamp cook staff, available Wifi.
Access to solar panel and satellite phone.
Daily dispatches from the team.
Helicopter depature from Base Camp available for a fee.
Price does not include
Items of a personal nature, individual travel costs, delays, taxis, etc.
Personal Climbing Permit Fee paid in Mendoza with your guide (Approx. $650 usd based on 2018 pricing).
Personal clothing or gear.
Alcoholic drinks and personal snacks or drinks.
Recommended Travel/Trip Cancellation Insurance.