Trip Information
Dates: Trip 1: November 23 – December 9, 2023 / Trip 2: December 15 – 31, 2023
Mount Vinson Climb Cost: USD $47,000
Trip begins in Punta Arenas, Chile
Combine a Mount Vinson Climb with the South Pole Last Degree Ski – (December 7 – 18 or January 4 – 16)
Combo Trip Cost: USD $90,000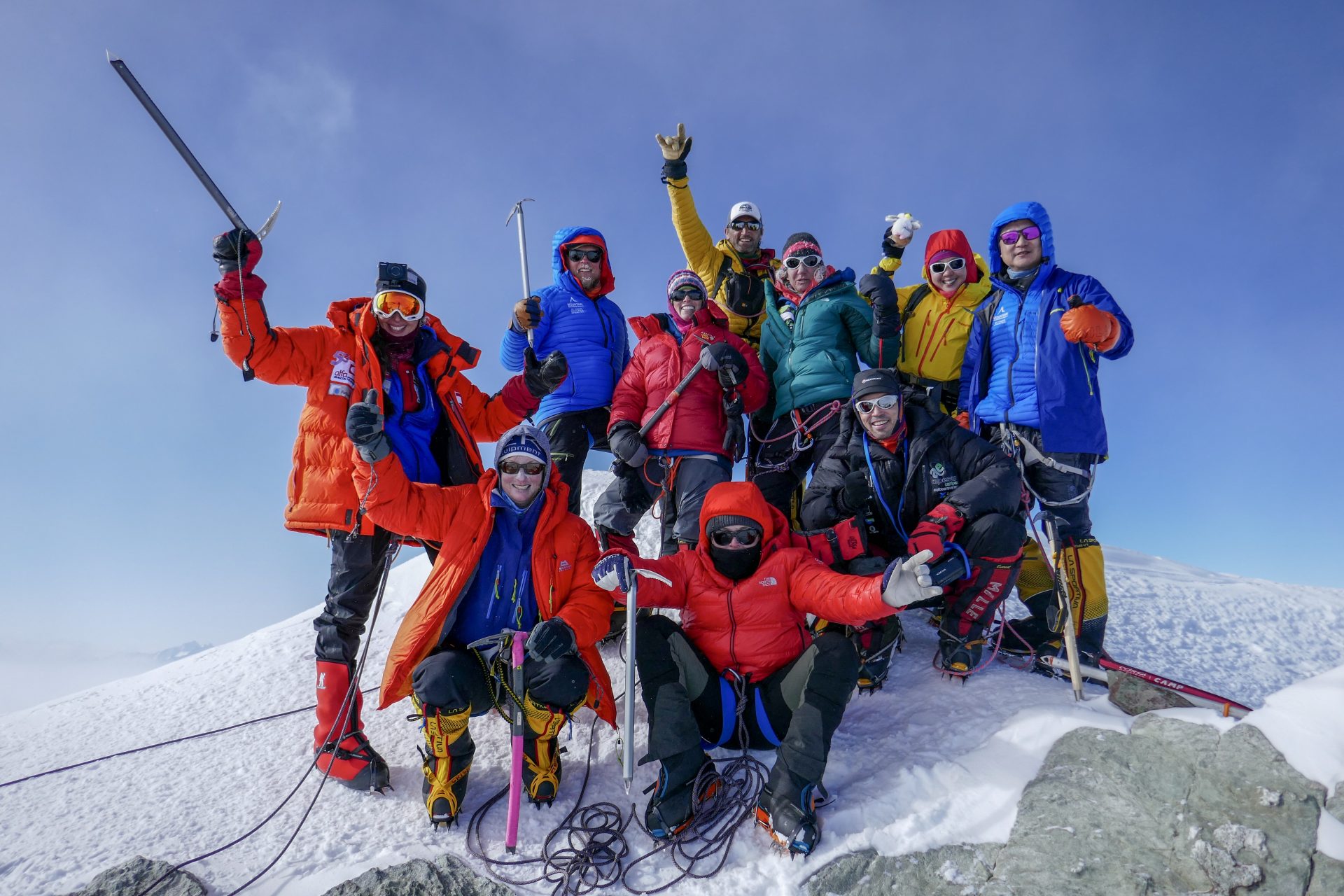 Our Mt. Vinson Climb Expeditions for the 2023 Season
Join one of America's premier mountain and polar guides, Ryan Waters and our team of guides on a Mount Vinson climb. Our staff has extensive experience leading expeditions in Antarctica, highlights include: First Unsupported and Unassisted Ski Traverse of Antarctica; Expedition Leader of the largest summit group in the history of Mt. Vinson 24 summits on one day (3 individual teams), South Pole unsupported full ski trip guide, First American to ski unsupported to both the North and South Poles, First American True Adventurers Grand Slam.
We will be guiding expeditions to Mt. Vinson in the 2023-24 climbing season. Contact us for more details on joining one of the upcoming departures.
Climb the highest peak in Antarctica and one of the Seven Summits
Great training peak to prepare for a future attempt of Everest or other objectives
Vinson veteran staff that have led trips in Antarctica for over a decade
Let Mountain Professionals take you there
Want to learn more about climbing Mt. Vinson, the highest mountain in the Antarctica? Contact us today and we will give you all the info you need.
Highlights of our Mt. Vinson Climb trip
Veteran mountain guides with experience in Antarctica on Vinson and South Pole Ski trips
Comfortable Base Camp with, carpeted, dining dome with table and chairs
Low camp dome for dining tent
High Camp Cache of group tents and gear for lighter movement to high camp
Access to satellite phone and email, dispatches of the team progress on our news site
Photo Gallery
Mount Vinson Climb Trip Description
Join us for a climb of this pristine Mountain located in the heart of the Sentinels. This remote and demanding expedition is an incredible journey to the end of the earth, just 750 miles from the South Pole.
First climbed in 1966, Mt. Vinson is the highest mountain in Antarctica and an excellent choice for the mountaineer who has experience with extreme weather conditions and a solid background of previous high altitude climbing. This mountain is a common goal for the 7 summits quest to climb all of the highest summits on each of the seven continents. Mt. Vinson is the perfect next step on the road to peaks such as Everest with Mountain Professionals.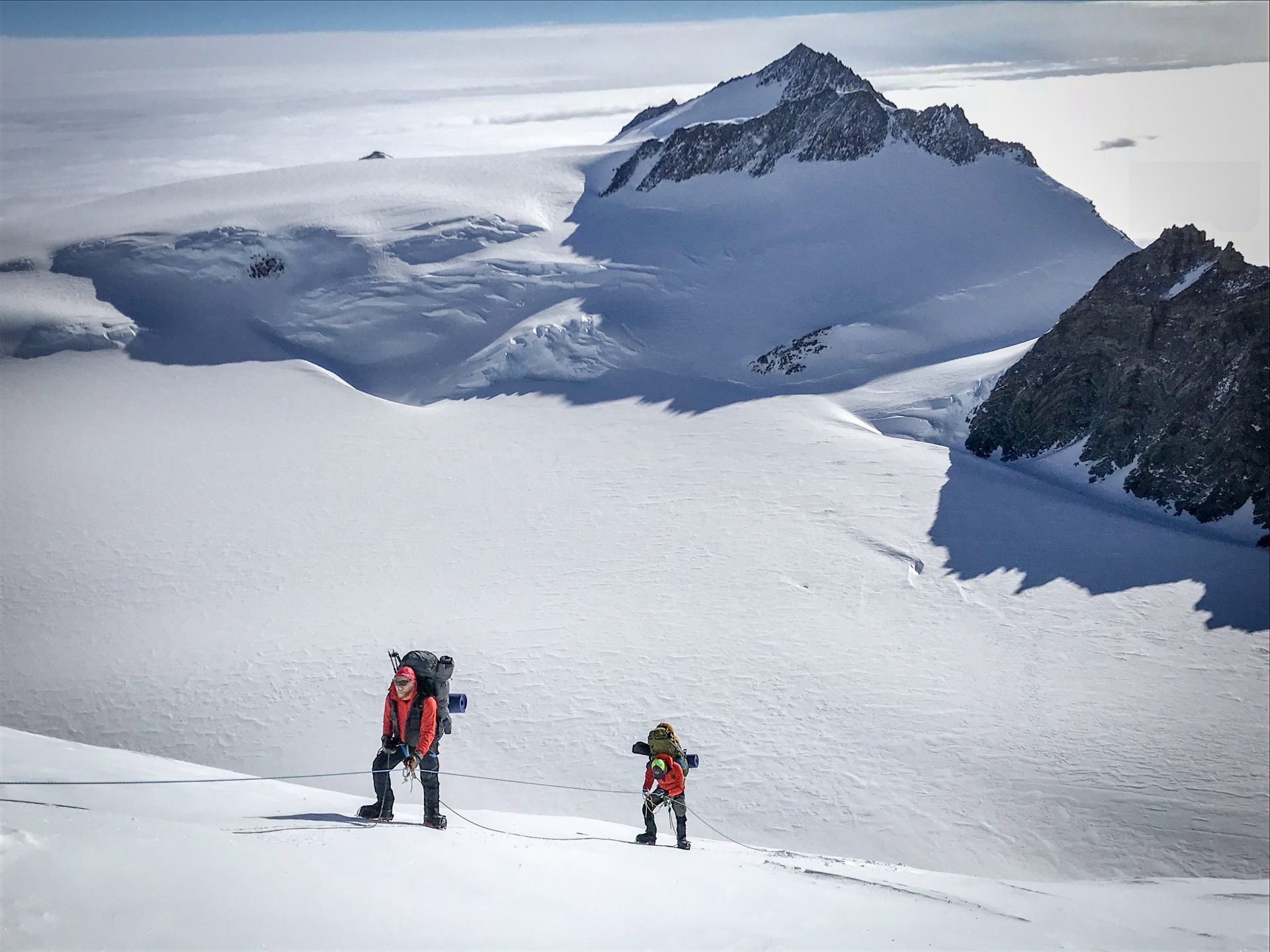 Mount Vinson Route
Our  Mount Vinson Climb trip begins in Punta Arenas, Chile. We will take a 4-hour transport flight to the Union Glacier camp on the Antarctic Continent. As soon as weather permits, we will be transported to the Sentinel Mountain Range and the base of the Vinson Massif via Twin Otter Airplane with all the supplies and equipment needed to make a self-sufficient ascent of the mountain.
The route travels via moderate snow and ice slopes of the Branscomb Glacier and is moderate in technical difficulty, however we climb with extreme care to avoid crevasse dangers while on the lower mountain. Our team will travel using glacier travel techniques as a rope team.
We will utilize two camps on the mountain above base camp. Each of these camps will allow us to move our personal equipment successively higher on the peak to allow us a summit bid from our high camp location at the top of the fixed line headwall. The summit day is an amazing climb in the 24 hour sunlight of the Antarctica Summer. Although the summit day is cold, the climbing route is relatively moderate in technical difficulty and team members with good determination and appropriate training will enjoy a successful climb to the summit of Mount Vinson.
Climb Mount Vinson and the South Pole
For participants interested in a Combo trip with a Mount Vinson Climb and Last Degree South Pole Ski trips: Please note that we strongly recommend that interested participants on south pole last degree trips plan to take our polar ski training prior to signing up for the actual expedition. Planning ahead is the best way to prepare. With more mountaineers who have taken part in Seven Summits climbs, they often underestimate the difficulty and different skill set required to complete a South Pole Last Degree Ski expedition. We would also recognize similar trainings by a respected instructor or fairly significant cross country ski experience in cold weather environments, or can provide private instruction if needed. So if you are interested in a future Last Degree Ski expedition to Antarctica, the best way to have a safe and successful expedition is to take a polar ski training course.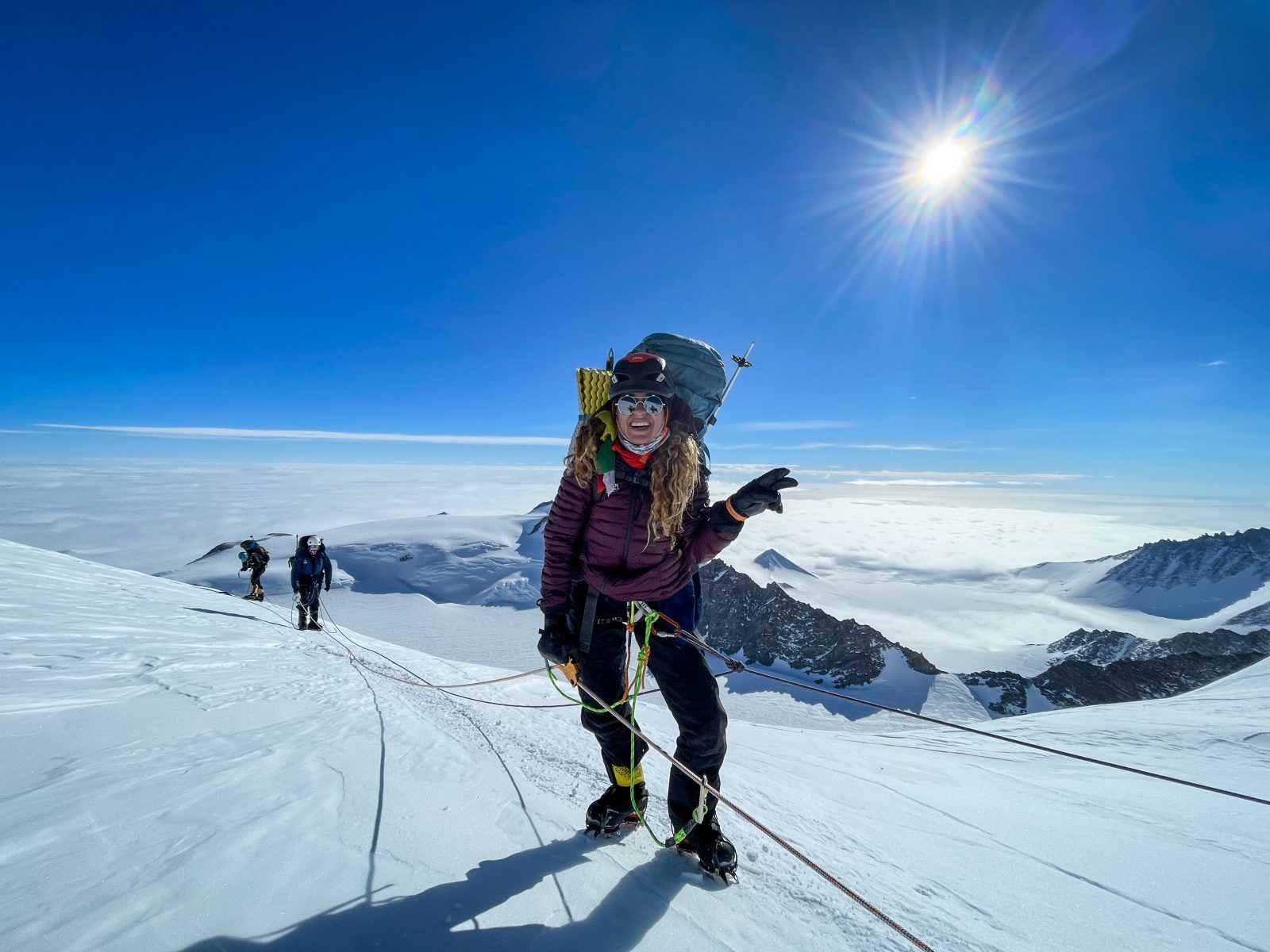 Mount Vinson Climb Trip Itinerary
Day 1: Arrive in Punta Arenas, Chile. Transport to Hotel Punta Arenas. Packing and planning for expedition
Day 2: Team meeting and gear check, duffle back weigh in and check in of gear to flight company
Day 3: Meeting with ALE (flight company), relaxing in town
Day 4: Flight to Union Glacier Base Camp in Antarctica (4 hours). Possible flight to Vinson Base Camp (weather dependent)
Day 5: Flight from Union Glacier to the base camp of Vinson Massif (7,000 Feet)
Day 6: Carry to Camp 1 (9,500 Feet), Return to base camp
Day 7: Possible Rest Day at base camp
Day 8:  Climb to Camp 1. Sleep in Camp 1
Day 9: Rest and acclimatization
Day 10: Move to Camp 2
Day 11: Summit Day
Day 12: Extra day for contingency
Day 13: Extra day for contingency
Day 14: Return flight from Vinson Base Camp to Union Glacier Camp
Day 15: Planned return flight from Union Glacier Camp to Punta Arenas, Chile
Day 16: Return flight to your home country from Punta Arenas, Chile
Trip Costs
Mount Vinson Climb Trip Cost Includes
Experienced Mountain Professionals Vinson Guides
All Flights to and from Antarctica (to Union Glacier Camp) via Punta Arenas, Chile
Flight from Union Glacier Camp to Vinson Base Camp
Vinson Base Camp Dome with carpet, dining table and chairs, heated
Low camp dome for dining
High camp cache of tents and group gear for minimal carry to high camp
Support services while in the Antarctic and Search and Rescue Coverage
All Meals in Antarctica
Weather Reports
Tents in Antarctica and all group gear, Navigation, Satellite Phones, GPS
All group climbing gear, ropes, tents, snow protection, radios
Comprehensive First Aid Kits and Wilderness First Responders
Dispatches to Mountain Professionals News Page
Price does not include
International round-trip airfare to and from Punta Arenas
Evacuation insurance (required for each member)
All expenses incurred in the event of early departure (evac fees, transport, extra hotel nights, etc)
Any additional Hotel nights due to delays prior to flying to Antarctica
Hotel nights in Punta Arenas, Chile
Rescue Insurance Policy (required) / Trip cancellation insurance (if applicable)
Meals while in Punta Arenas
Charges incurred as a result of delays with flights that would effect personal flights
Personal expedition clothing and personal gear