Trip Information
Dates: June 3 – 24
June 10 – July 1, 2023
Denali Expedition Cost: USD $12,100
Trip begins in Talkeetna, Alaska, USA
This Denali expedition trip includes: Shuttle transfer from Anchorage to Talkeetna, Permit cost, 2 nights lodging in Talkeetna before flight, as well as other perks that are not included in typical operators pricing. See included services below.
This expedition is run in association with our partner Alaska Mountaineering School.
This is a 3 guides to 6 clients ratio trip
Our Denali Expeditions for 2024 Season
We are very excited to return to Denali for our Spring expeditions. We plan to run this trip each June and are already accepting interested climbers for 2023:
Incredible opportunity for mountaineers to climb the highest peak in North America
Perfect training peak to prepare for a future attempt of Himalayan peaks
Let Mountain Professionals take you there
Want to learn more about climbing Denali, the highest mountain in North America? Contact us today and we will give you all the info you need.
Highlights of our Trip
Veteran Mountain Professionals Guide and Assistant Guides with a 1 to 3 guide to client ratio: 3 guides to 6 clients for personalized attention
Access to satellite phone and email, dispatches of the team progress on our news site
Emphasis is placed on providing high-end logistics, staff, equipment, and services to a small team of climbers
Use of the AMS facility in Talkeetna for pre-trip planning and packing
Denali Expedition Trip Description
First climbed in 1951 by Bradford Washburn and his team, Denali is the highest mountain in North America and one of the world's classic mountaineering expeditions. The Denali trip may be a lifetime goal on its own or serve as a valuable expedition experience for the mountaineer who has aspirations of Himalayan climbing. An expedition to the Alaska Range is also an excellent test of winter mountaineering and living skills.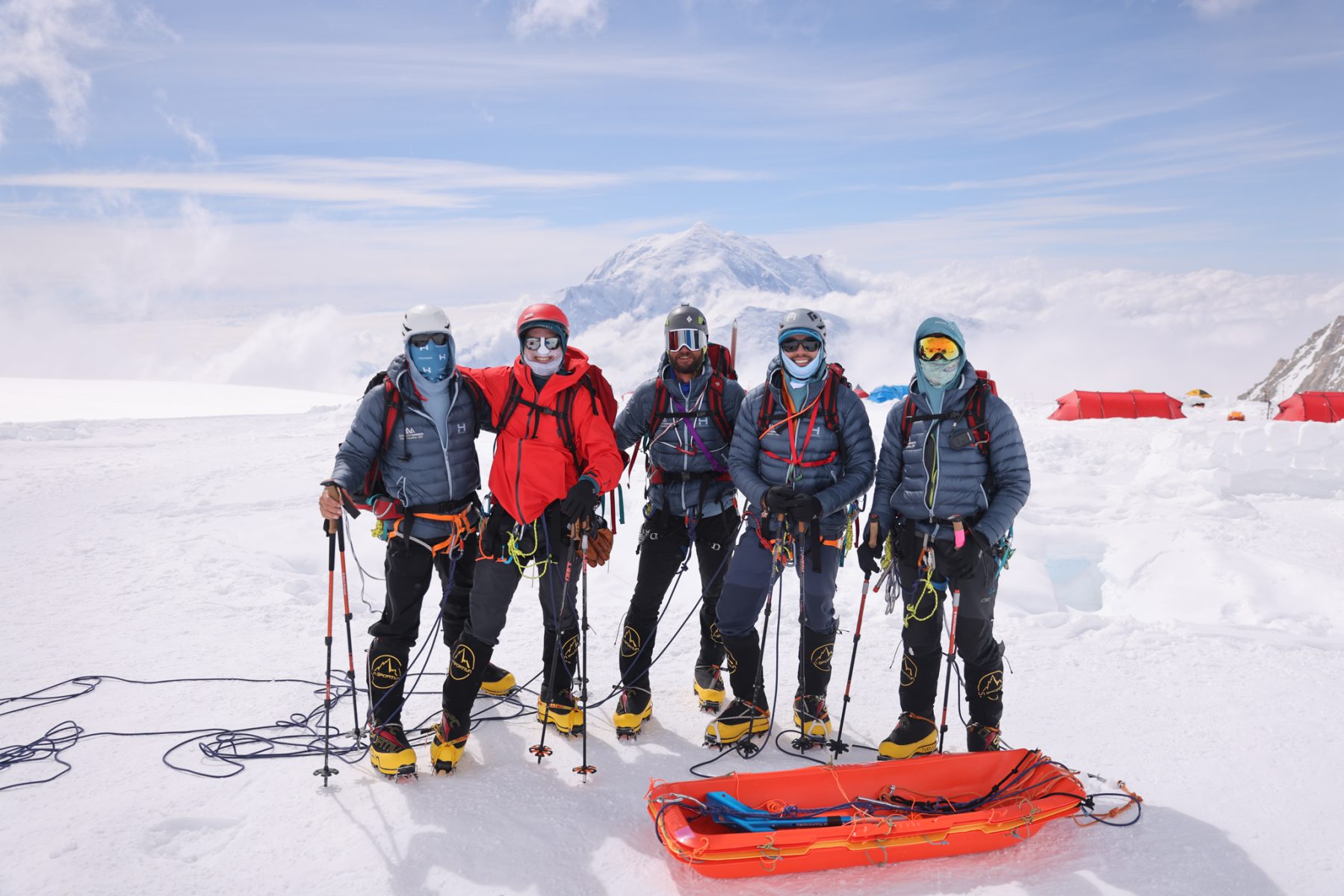 Preparing for Denali
Standing 20,320 feet above sea level, Denali is a serious mountain undertaking and is appropriate for those who have had experience with several mountaineering high altitude objectives. Team members should be comfortable with glacier travel on 40-degree snow and ice slopes and possess a solid background of previous climbs on moderate routes. This peak often attracts those who are looking to test themselves at high altitude or on the 7 summits quest to climb all of the highest summits on each of the seven continents. Denali is the perfect next step on the road to peaks such as Vinson and Everest with Mountain Professionals.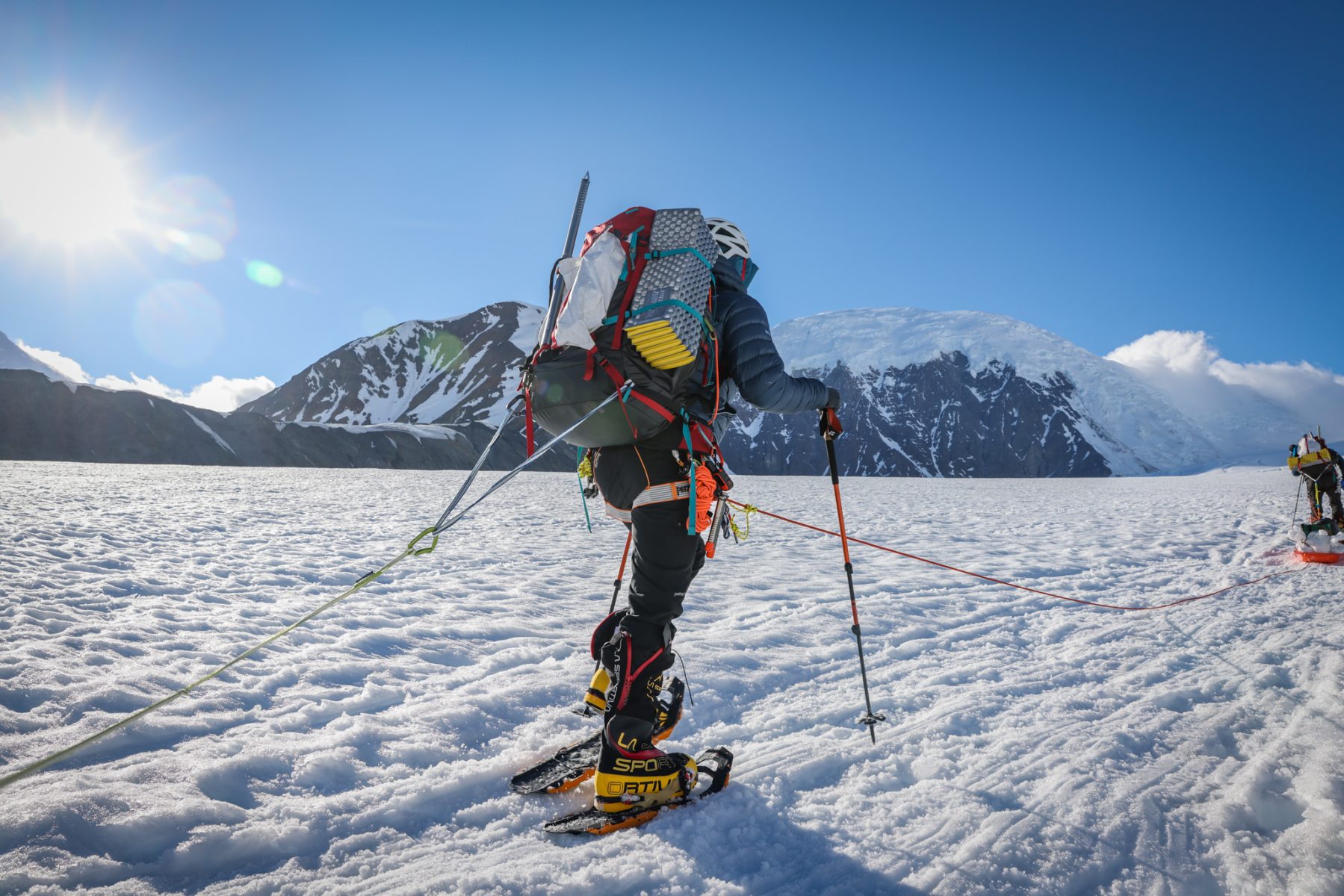 Denali Expedition Route Description
Denali is accessible from the town of Talkeetna via an internal flight to the Kahiltna Glacier. Here we will begin to carry loads to successively higher camps and acclimatize in route to the summit. The route above the 14,200′ camp travels via moderate snow and ice slopes of up to 40 degrees. This section of the route is protected with fixed ropes as we make our way to the 17,200-foot high camp. Depending on weather and schedule, we will make our summit push from this high camp location. The route to the 20,320-foot summit of Denali is a full 10+-hour day that is demanding but extremely rewarding. The summit push may be delayed by weather so we take great care to be prepared to wait several days at the high camp in order to make a safe ascent.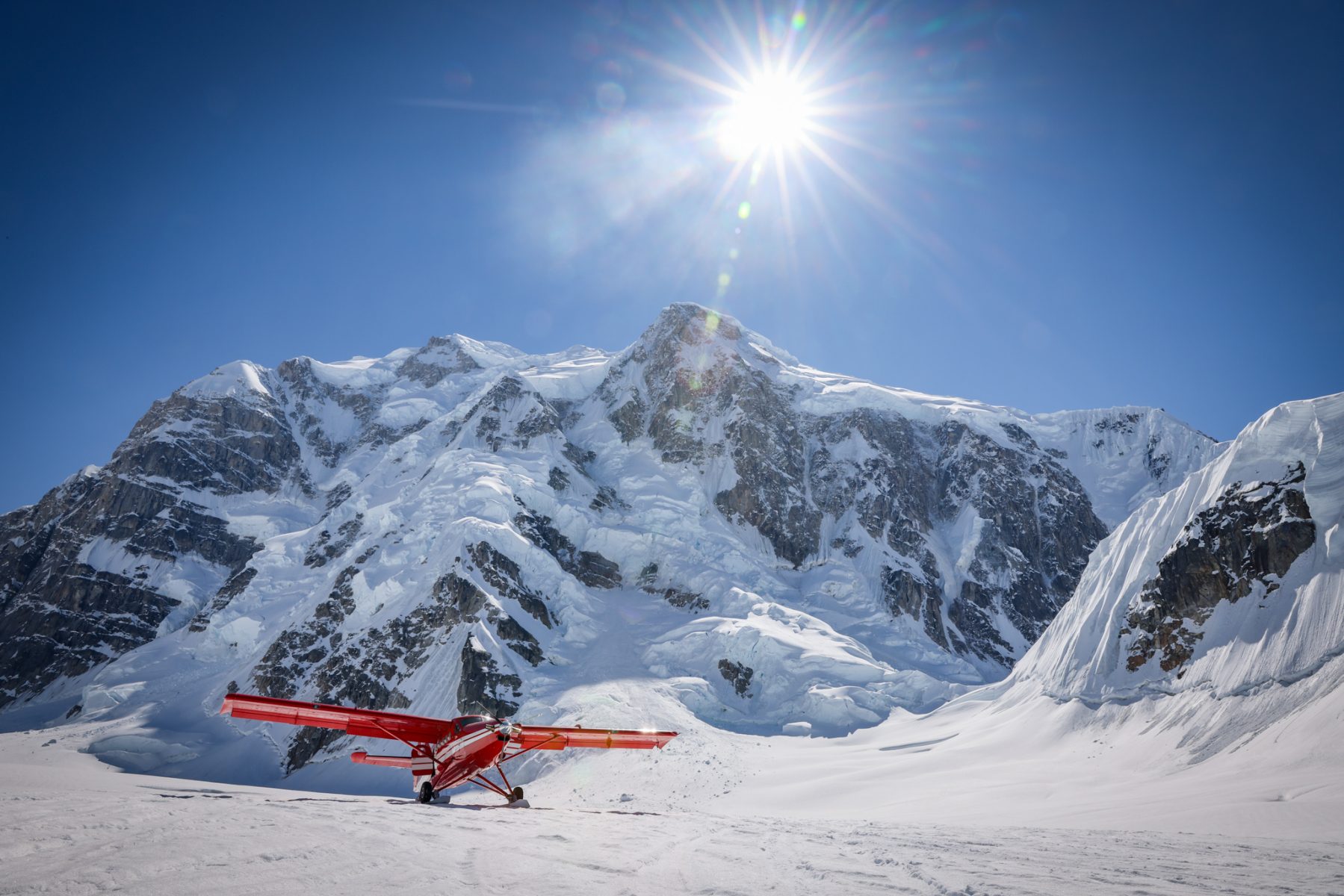 We look forward to upcoming expeditions to Denali in the spring of 2019. We offer a single departure with a limited number of spots each June to Denali through our partner Alaska Mountaineering School.
Projected Itinerary
Day 1: Arrive in Talkeetna office for expedition overview and gear check. Afternoon flight to glacier.
Day 2: Base Camp day to organize, acclimatize, review glacier travel and crevasse rescue setups.
Day 3: Travel Ski Hill and climb to Camp 1.
Day 4: Carry to Kahiltna Pass (9,700′).
Day 5: Move to Kahiltna Pass, Camp 2, (9,700′)
Day 6: Move to Camp 3 at 11,000′.
Day 7: Rest Day.
Day 8: Carry to 13,500′ around Windy Corner.
Day 9: Move to 14,200′, Camp 4.
Day 10: Logistics day, gear and food cache.
Day 11: Carry to 16,200′.
Day 12: Rest day at 14,200′ camp.
Day 13: Move to 16,200 feet or 17,200′ Camp 5.
Day 14: Rest day or move to 17,200 feet, Camp 6.
Day 15-19: Summit days.
Day 20: Return to 14,200 feet or 11,000′.
Day 21: Return to Base Camp, 7,200′, fly back to Talkeetna.
Day 22: Extra weather day built in to schedule.
Denali Expedition Trip Costs
Denali Expedition Cost Includes
Mountain Professionals and AMS permitted guides
One way shuttle from Anchorage to Talkeetna at trip start
2 nights lodging in Talkeetna before the climb
Glacier flight to and from the mountain from Talkeetna
Base camp fees
Personal National Park Service Climbing Fee
Full mountain services, meals, group equipment, tents.
Group equipment, group climbing equipment, tents, communications, first aid kit, fuel, ropes etc.
Personal custom issued sleds
Discount on 24-week mountaineering training program with Uphill Athlete
Staging area in Talkeetna for team packing.
Dispatches from the team
Price does not include
Items of personal nature, individual travel costs, delays, taxis, etc.
International Airfare and travel to Talkeetna
From Talkeetna back to Anchorage post climb
Lodging after the climb and meals in Talkeetna
Personal clothing or gear
Alcoholic drinks and personal snacks
Recommended Travel/Trip Cancellation Insurance
Staff gratuities