Trip Information
Dates: November 4-10, 2020 / February 28 – March 6, 2021
Cost: USD $2,400

Trip begins in Mexico City, Mexico

Our Orizaba Expedition for the 2020-'21 Season
Incredible opportunity for mountaineers to reach an 18,880 ft. (5636m) summit
Perfect training peak to prepare for a future attempt of Aconcagua
Orizaba veteran American staff that have successfully led previous trips with 100% Summit Success
Let Mountain Professionals take you there
Want to learn more about climbing Orizaba, the third highest mountain in North America? Contact us today and we will give you all the info you need.
Highlights of our trip
Private transports throughout the expedition
Veteran American mountain guide with over a decade of guiding in Mexico, to ensure seamless delivery and safety procedures
Access to satellite phone and email, dispatches of the team progress on our news site
Emphasis is placed on providing high end logistics, staff, equipment and services to a small team of climbers
Accommodation in Tlachichuca, Mexico in quaint lodge
Trip Description
Join us for a climb of this beautiful and accessible mountain in the heart of Mexico. First climbed in 1848, Orizaba is the 3rd highest mountain in North America and an excellent experience for the aspiring mountaineer. Standing 18,880 feet above the Gulf of Mexico to the east, Orizaba is an excellent challenge for those who have had some experience with mountaineering and are looking to test themselves at high altitude. Orizaba is the perfect next step on the road to peaks such as Elbrus and Aconcagua and has served as the choice for mountaineers as the first big mountain glacier climb.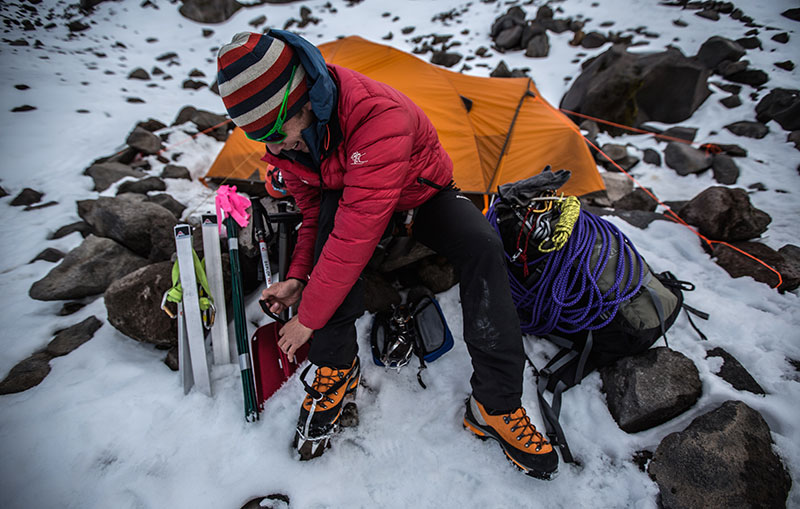 Pico de Orizaba is easily accessible from Mexico City, a short drive to the town of Tlachichuca brings us to the base of the mountain. We will spend a night in town to take in the views of the mountain and sample the exquisite local cooking. Before making our way to the start of the climb we have time to pack and organize equipment on the sunny grass of our logistics operators hacienda.
A 4-wheel drive truck ride will transport the group and gear to the Piedra Grande hut located at 13,972 feet on the mountain. Here we will take a day or two to relax, hike, and acclimatize. As soon as we have taken some time to review basic skills, we are ready to climb to the summit.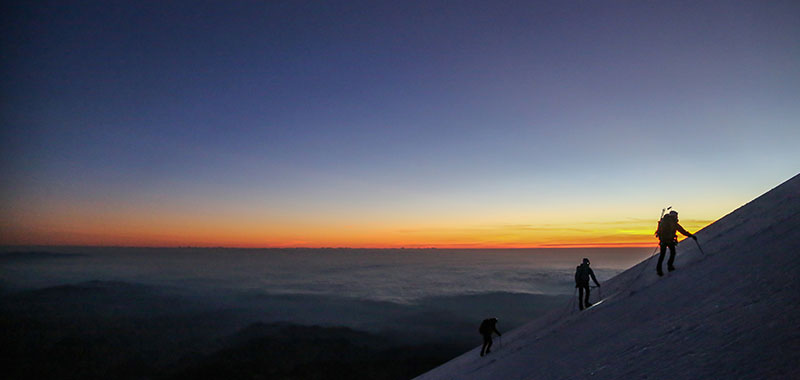 The route travels via moderate snow slopes of the Jamapa Glacier. After several hours ascending the snow slopes we reach the crater rim. A short traverse along the exciting summit ridge leads to the summit of Orizaba.
After the climb we will join in a celebration dinner back in town and then transport back to Mexico City for the culmination of the expedition.
The Orizaba trip was a great adventure set within the rich culture of central Mexico. As an experienced climber, I was provided an introduction to high altitude mountaineering and Mountain Professionals also taught me vital climbing lessons along the way.

Steve C.
Recent Trip Results
March 2017 – Summit
March 2015 – Crater Rim/Summit
November 2013 – Summit – Dispatches
January 2008 – Summit
December 2007 – Summit
Orizaba Expedition Video
Projected Itinerary
Day 1: Arrive in Mexico City (7,340′) transport to Tlachichuca (7,000′) in private van. Enjoy our local operator's hacienda and wonderful meals.
Day 2: Expedition overview, gear check & explore Artisans' Market.
Day 3: Transport via 4-wheel drive to Piedra Grande Hut (13,972′) on Orizaba and take a small acclimatization hike.
Day 4: Acclimatization hike to set up high camp and return to sleep in the hut.
Day 5: Hike to high camp/sleep in tents.
Day 6: Summit Orizaba and return to the hut, transport to Tlachichuca and sleep in our hosts hacienda.
Day 7: Morning transport to Mexico City/Flights home.
Trip Costs
Trip Cost Includes
Mountain Professionals guides
Transfer from Mexico City Airport to Tlachicuca and back
2 Nights accommodation in Tlachicuca at Hotel including meals
Transfer to and from mountain via 4×4 vehicle
All hut or camping fees for the climb
All meals and cooking gear on mountain
Group climbing equipment, including tents
Price does not include
Items of personal nature, individual travel costs, delays, taxis, etc
Personal clothing or gear
Alcoholic drinks and personal snacks
Recommended Travel/Trip Cancellation Insurance
Staff gratuities