Trip Information
Dates: October 20 – November 13, 2023
Cost: USD $15,500
Trip Begins in Kathmandu, Nepal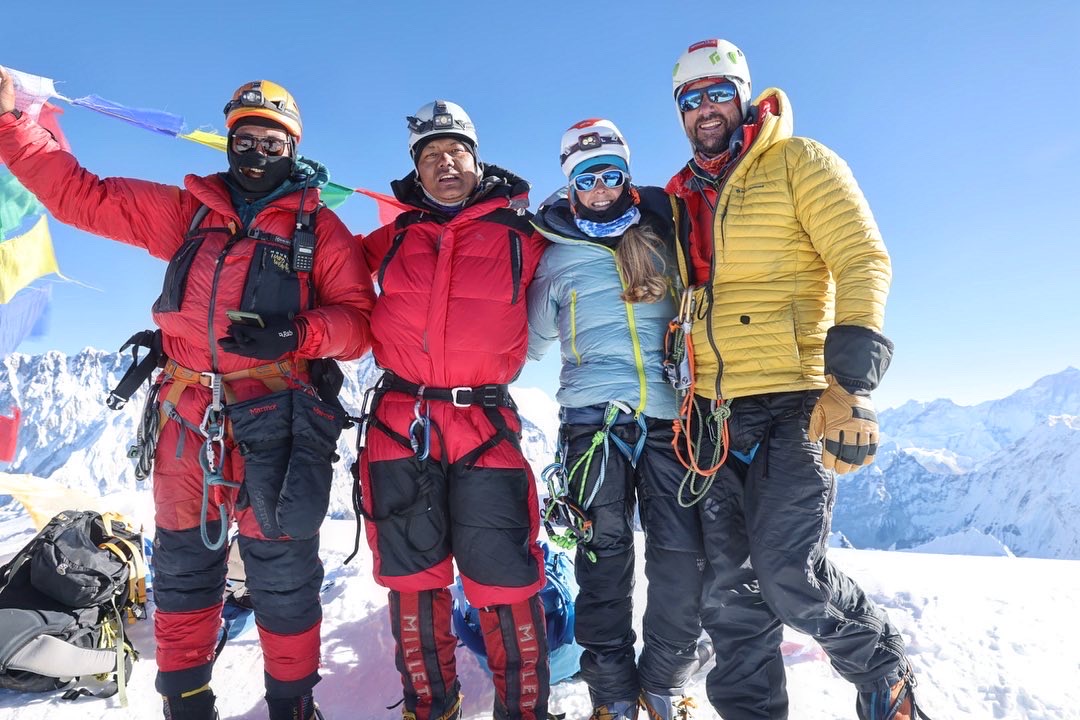 Our Ama Dablam expedition for the 2023 season
Join the Mountain Professionals team and veteran Himalayan expedition leader for our expedition to climb Ama Dablam during the 2023 season.
Sometimes names can be misleading, but when it comes to Mountain Professionals the name couldn't be more accurate!  When I decided to climb Mt. Everest as part of 'THE QUEST' TV / Film Series, there was little doubt on who I wanted to entrust my life with and to handle the in-depth logistics needed for our 52 day cinematic adventure to the top of the world.  Excellent company, excellent people, excellent experience!

Alex H., USA
We focus directly on a smaller size group of climbers that are receiving a quality guided climbing experience and package.
Expedition Leader Ryan Waters, Himalayan and Ama Dablam Veteran Guide
Top Ama Dablam logistics are provided throughout the trip from Kathmandu to all mountain camps
Himalayan veteran American and IFMGA Sherpa staff that have successfully led previous trips with safe Summit Success for over 16 years in Nepal
Let Mountain Professionals take you there
Want to learn more about climbing Ama Dablam? Contact us today and we will give you all the info you need.
Photo Gallery
Highlights of our trip
1:2 climbing Sherpa to client ratio
Expedition led professional American Mountain Guide
1:3 western mountain guide to client ratio
One to One Private American guide option available
Emphasis is placed on providing high end logistics, staff, equipment and services to a small team of climbers
Trip Description
We feel that being part of a strong team on Ama Dablam has great advantages for reaching the summit. Our expeditions, although led by professional mountain guides, has a feeling of relaxed efficiency, with two-way communication between the staff and the team members. We feel there is a huge advantage to joining a small, highly organized group of climbers, led by our staff to manage all the on mountain logistics and risk management. This ensures that you can concentrate on climbing Ama Dablam and can rely on the experience of the expedition leader and our climbing staff.
We will meet in Kathmandu, Nepal for our team organization and final preparations. Our group will spend a day in the city to rest, visit local sights, and prepare. We will take a domestic flight to the village of Lukla and begin our 6-day hike to base camp. Our goal is to reach the 15,000 feet base camp feeling strong and ready to begin the climb.
The route from Base Camp treks up moderate rock and scree slopes mostly on trail and moraines up to the Yak Camp (17,000 ft. – 5,182m) as acclimatization. After returning to base camp for a day we then for an acclimatization rotation sleeping in Camp 1 (18,500 ft. – 5,639m). The following day we climb to Camp 2 for acclimatization (19,500 ft. – 5,944m) and return to Camp 1 to sleep. The following morning we return to Base Camp for a rest and begin our planning for the summit push.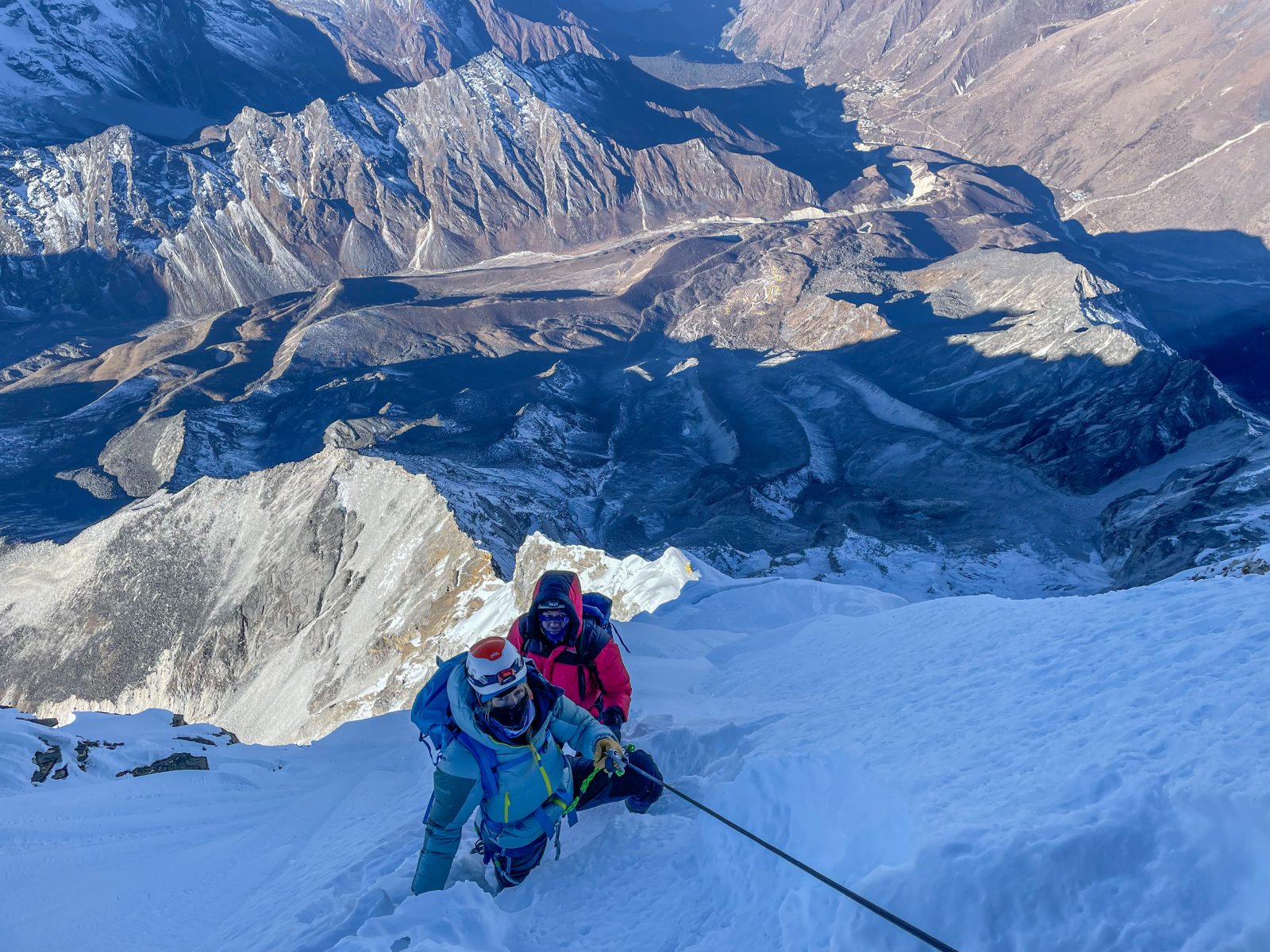 On the summit rotation we climb from base camp directly to Camp 1 for one nights sleep. The following day, we climb to Camp 2 to stay for one night. One more advanced camp known as camp 2.7 located at (20,800 ft. – 6,350m) which will provide us with a great rest before summit morning. Then, in the very early a.m. we leave camp 2.7 to climb the varied rock, ice and snow terrain up along ridges and the beautiful fluted face along the Dablam "mother's necklace" to the Summit.
This is the highest quality expedition you will find for an exceptional price. All the in-country transportation, the on mountain services, food, tents, yaks, and guides are included and are of high quality.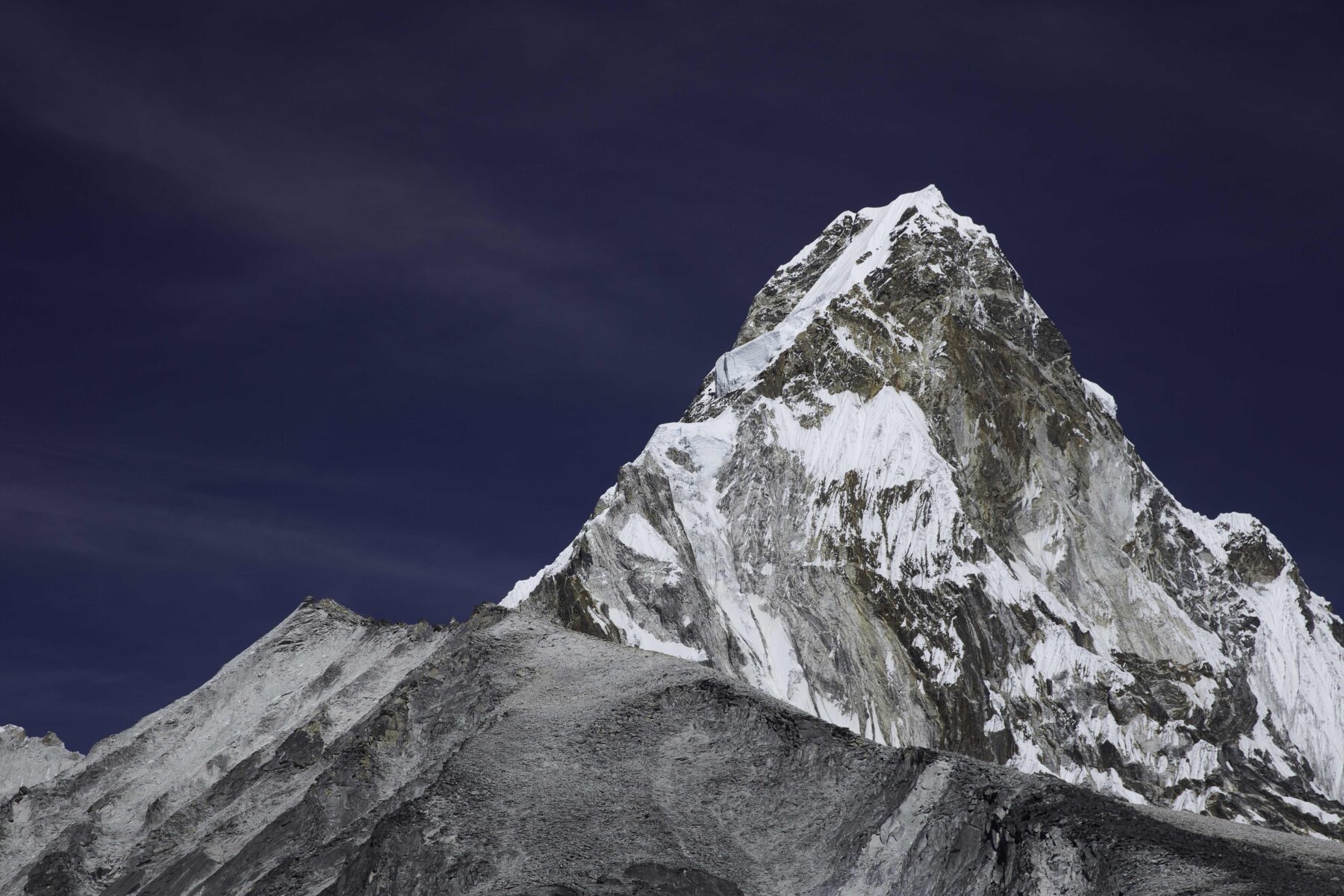 Projected Itinerary
Day 1: Arrive at Kathmandu Tribuvan International Airport. Our team transports to our hotel in Thamel.
Day 2: Relax and enjoy the vibrant city of Kathmandu. Some organization of personal gear and needs.
Day 3: Internal Flight to Lukla and trek to Phakding at (8,700 ft. – 2,651m)
Day 4: Today we hike to the Sherpa town of Namche Bazaar. Here we visit the city and experience the people in the Sherpa Capital at (11,300 ft. – 3,445m).
Day 5: Here we take another day in Namche to carefully acclimatize and rest. We take a museum tour and trek to the Everest, Lhotse and Ama Dablam viewpoint.
Day 6: We will hike along the Dodh Kosi River and eventually make our way through the Rhododendrons past the Tengboche Monestery, sleep in Deboche (12,533 ft. – 3,820m).
Day 7: Today we hike to Pangboche at (13,074 ft. – 3,985m) to sleep and see amazing views of Ama Dablam.
Day 8: Trek to Ama Dablam Base camp (15,000 ft. – 4,572m).
Day 9: Acclimatization Day, trek to Yak Camp (17,000 ft. – 5,182m) and return to Base Camp.
Day 10: Rest day in Base Camp
Day 11: Climb from Base Camp to Camp One (18,500 ft. – 5,639m)
Day 12: Acclimatization Climb to Camp 2 (19,500 ft. – 5,944m) and return to Camp 1 to sleep.
Day 13: Descend from Camp 1 to Base Camp for rest.
Day 14: Rest Day in Base Camp
Day 15: Rest Day in Base Camp (Contingency Day)
Day 16: Climb from Base Camp to Camp 1 (18,500 ft. – 5,639m)
Day 17: Climb from Camp 1 to Camp 2 (19,500 ft. – 5,944m).
Day 18: Climb from Camp 2 to Camp 2.7 (20,800 ft. – 6,350m)
Day 19: Climb from Camp 2.7 to Summit (22,525 ft. – 6,866m), Return to Camp 1 for sleep.
Day 20: Descend to Base Camp.
Day 21: Rest Day in Base Camp. (Contingency Day)
Day 22: Trek from Base Camp to Namche Bazaar.
Day 23: Trek from Namche Bazaar to Lukla.
Day 24: Fly from Lukla to Kathmandu, overnight in our hotel and celebration dinner.
Day 25: Depart Kathmandu for home country.
Trip Costs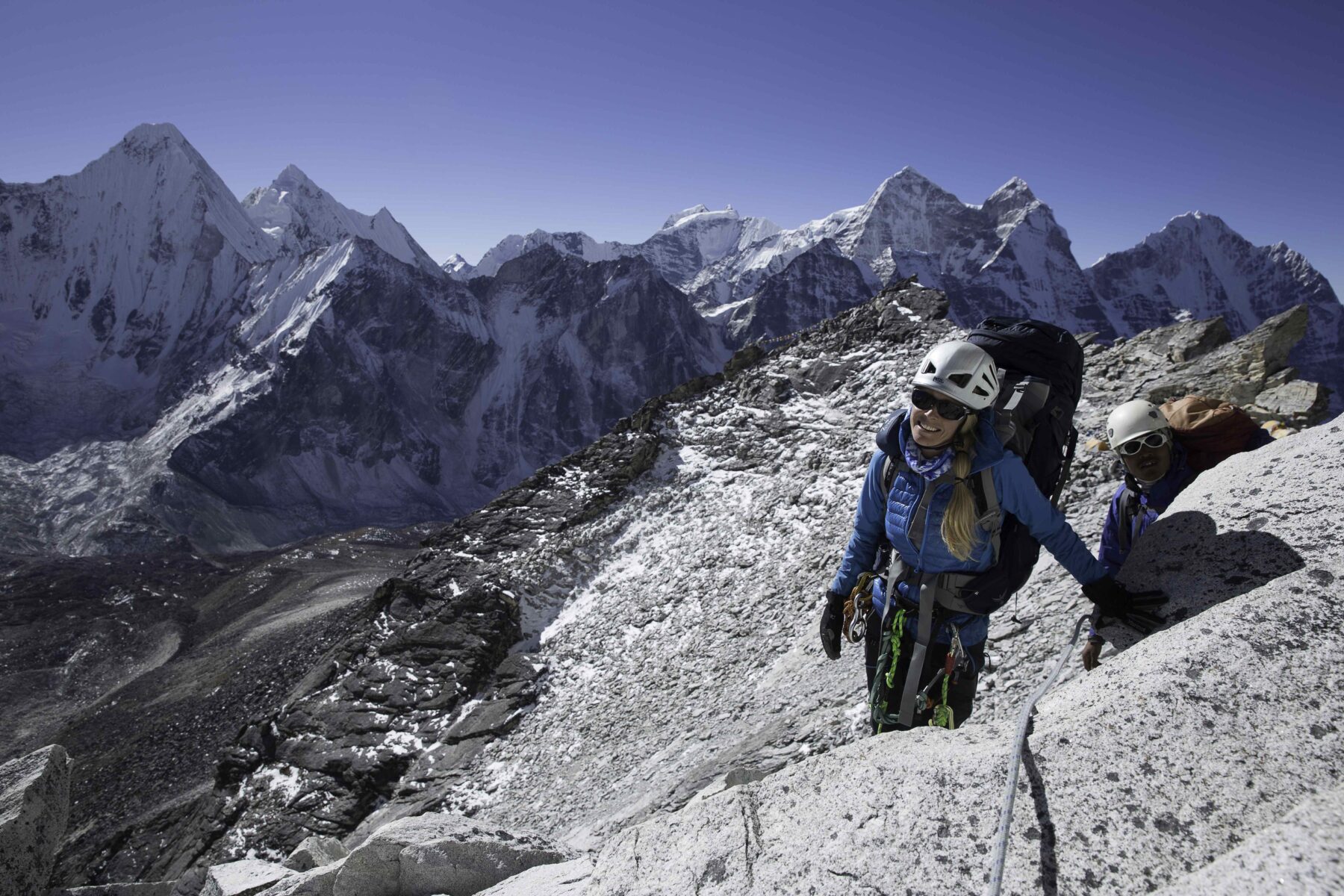 Trip Cost Includes
Mountain Professionals western guides at 1:3 guide to client ratio.
1:2 Nepali Sherpa climber to client ratio.
Expedition permit.
Three nights private accommodation in our modern Kathmandu Aloft by Marriott Hotel.
Full board on twin sharing basis on the Trek at high quality teahouses.
Round Trip Kathmandu to Lukla flight.
Baggage transfers, porters, and guides to and from Base Camp.
Cooks, kitchen and climbing staff at Base Camp; equipment allowances, daily wages, insurance, and food.
Carry bonus for Sherpa staff.
Heated and Carpeted- Dining Dome, full kitchen, shower and toilet tents, chairs and tables at BC, comfortable BC environment and high quality food served by our kitchen staff.
Mountain Hardwear Trango 3 mountain tents.
Imported US and European food at BC; equipment allowances, daily wages, insurance, food and lodging for Liaison Officer.
All route fixing costs.
Group climbing equipment, high altitude tents, stove and fuel; high altitude food imported from the United States.
Two way radios and VHF BC to mountain communications; full BC satellite phone communication setup.
Emergency oxygen supply
Comprehensive medical supplies and Wilderness EMT/First Responders.
Weather Reports provided by World Wide Weather Expeditions.
Price Does Not Include
International airfare to and from Kathmandu.
Meals in Kathmandu, outside of team dinners before and after expedition.
Nepal entry visa.
Personal climbing clothing and equipment.
Travel/Trip Cancelation.
Rescue Insurance (required).
Staff gratuities.