Trip Information
Dates: April 24 – May 25, 2023
Cost: USD $19,000
Trip begins in Rekjavik, Iceland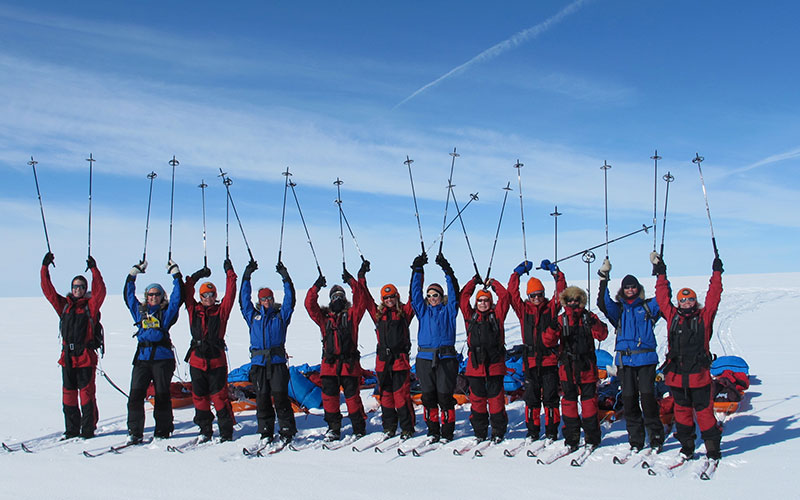 We plan on running a Greenland Ski Traverse expedition in the 2021 season. Contact us for details on joining the trip.
Our highly experienced team of Arctic Ski guides brings significant polar expedition skills from past South Pole, North Pole, and Greenland expeditions.
Let Mountain Professionals take you there
Want to learn more about our Greenland Ski Traverse, with the premier polar guides? Contact us today and we will give you all the info you need.
Trip Description
Our team will travel via Copenhagen or Rekjavik and take the international flight to reach Kangerlussuaq, Greenland. Upon our arrival we begin to make final preparations and pack the expedition sleds with food and equipment for the entire ski trip. We will go over safety precautions, have the gear checked with the local authorities and finalize our permit. After about 3 days in town we are transported via 4×4 to the edge of the glacier and begin the trip east to the literal other side of the country….
The first few days are an interesting mix of navigation and a slow ascent up to the flatter plateau. Ski days are full, with daily schedules maximizing our time to make good distance. A typical daily routine would consist of 6 a.m. wake up, melting water for the day and eating breakfast in two person tents. Break down camp in efficient manner, it is a bit cold at this time of day, and get on the skis.
The day is broken up into skiing blocks, with 5-10 minute breaks in between. During these ¨lunch¨ breaks, we eat handfuls of our lunch bag, chocolate, nuts, and other high energy snack food. We will enjoy the wind, snow, ice and sun and the occasional flock of arctic birds we see along the way.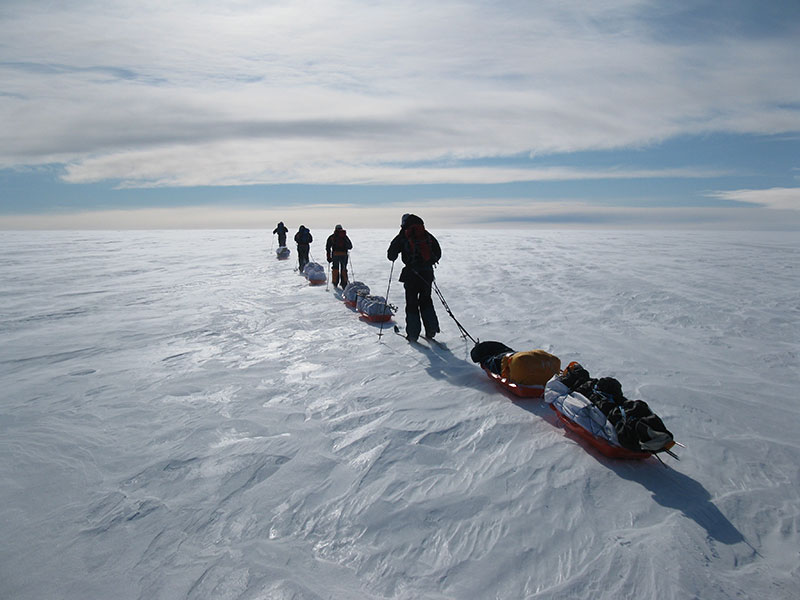 When the end of our ski blocks comes along, we celebrate in the late afternoon low sunlight with a look at the GPS to see how many kilometers we covered that day! Then its time to set up camp, melt water, make some dinner and enjoy the warm tent for the evenings rest.
This expedition will visit the American Dye 2 early warning station, located smack in the middle of the Greenland Glacier. An eerie reminder of the Cold War but also a surreal object on the horizon that has been abandoned for roughly 25 years.
Upon reaching the east coast we will ski literally to edge of the land. Our pickup… an inuit boat that meets us on the sea water, takes us to the tiny village of Isotorq. Here we sleep indoors for the first time in almost a month and visit with the locals. We will take a helicopter from here to a larger town and wait for further transport to the commercial airliner to depart the country.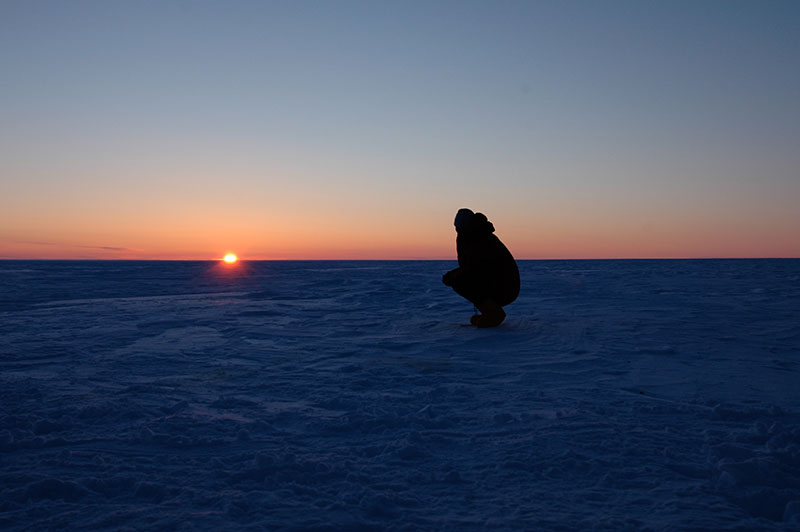 Trip Itinerary
Day 1: The team will fly from Reykjavic, Iceland. Arrival, team meeting and gear check.
Day 2: Here we will fly to Kangerlussuaq on the East coast of Greenland and rest in our hotel and claim our cargo we have sent ahead.
Day 3: We spend the day getting to know our new surroundings on Greenland and packing our expedition gear for the trip.
Day 4: An early morning transport brings us to the edge of the Glacier. We officially start our ski expedition this day and enjoy the crisp air, blue ice, and snow of the Greenland Ice Cap.
Day 5-7: We are now fully in ski mode and are getting used to the schedule of the day. Getting better at making camp and practicing our navigation as we climb higher in elevation to reach the plateau.
Day 7 to 20: Our route will take us across the inland ice up to an elevation of 2,500 meters. We will experience all types of weather from wind and snow to warmer days with lots of sunshine. These are the days we will cross many kilometers in an effort to make our way to the West. At some point we take a rest day and visit the Dye 2 radar station located in the middle of the Ice Cap. A must see. This is a mental shift to the second half of our journey, although not quite halfway in distance.
Day 21 to 23: Descending down to the coast is our goal now. We will cover larger amounts of distance as we gently ski to the lower elevation with gravity on our side. We begin to navigate to specific way points on our GPS in order to hit our target along the coast of amazing mountains. We are happy to see the change in landscape from flat ice to rugged peaks along the coast. Our team will arrange a pick up by small boat at the end of our ski trip.
Day 24 to 25: We spend our last night on the ice and then enjoy a day and evening with our local friends in the tiny village of Isortoq before taking a helicopter to the larger town of Tasiilaq.
Day 26 to 27: We spend a couple days in Tasiilaq enjoying hot showers, good food, and meeting the locals. We will repackage our gear and prepare it for the flight out of Greenland.
Day 28: International flight to Copenhagen and onward to home country.
Trip Costs
Trip Cost Includes
Mountain Professionals polar guides.
All accommodation while in Greenland (shared room / tent).
All transportation, according to the program within Greenland.
All permits and fees.
All meals according to the program within Greenland.
Group equipment, tents, sleds, stoves, etc.
Navigation equipment, compasses, GPS, maps.
Communication, satellite phones, dispatches.
Group insurance and emergency permits.
Expedition Sled/Pulk
Price does not include
Food and beverages while in Reykjavik or transit to Greenland or during delays.
Hotel and Food while in Reykjavic.
International Flight cost from Reykjavic to Greenland and Tasilliaq to Copenhagen or other destination.
Cancellation and travel insurance (which you must provide yourself).
Personal clothing and equipment, skis, boots, bindings.
Expenses of personal nature.