Trip Information
Dates: December 1 – 12, 2023 and December 27 – January 7, 2024
Cost: USD $3,900
Trip begins in Quito, Ecuador

Our Ecuador Volcanoes Expedition for the 2023 Season
Climb three classic peaks in a single trip Illinizas, Cotopoxi, and Chimoborazo
Perfect training peak to prepare for a future attempt of Himalayan Peaks
Veteran IFMGA Ecuadorian and American Guide staff
Summer and Winter trip options
Let Mountain Professionals take you there
Want to learn more about climbing the Ecuador Volcanoes? Contact us today and we will give you all the info you need.
Highlights of our trip
Private transports throughout the expedition
Veteran American and Ecuadorian mountain guides with over a decade of guiding in Ecuador, to ensure seamless delivery and safety procedures
Access to satellite phone and email, dispatches of the team progress on our news site
Emphasis is placed on providing high end logistics, staff, equipment and services to a small team of climbers
Accommodation in quaint lodges and hotels
Trip Description
Join us for a climb of three Ecuadorian classics in the Andes Range. First climbed in 1880, Chimborazo is the highest mountain in Ecuador and an excellent experience for the aspiring mountaineer. In preparation for the summit of Chimborazo, our team will acclimatize by taking beautiful treks in the surrounding hills near Quito and then go on to do a series of climbs on the Illinizas up to 5,248 m (17,218 ft) and on Cotopaxi 5,897 m (19,347 ft). The Ecuador Volcanoes expedition is an excellent way to expand your Alpine climbing skills and learn from our instructors in varied high altitude terrain. This expedition is the perfect next step on the road to peaks such as Denali and Everest and has served as the choice for mountaineers as a true high altitude climbing expedition with relatively short approaches and hut based climbing.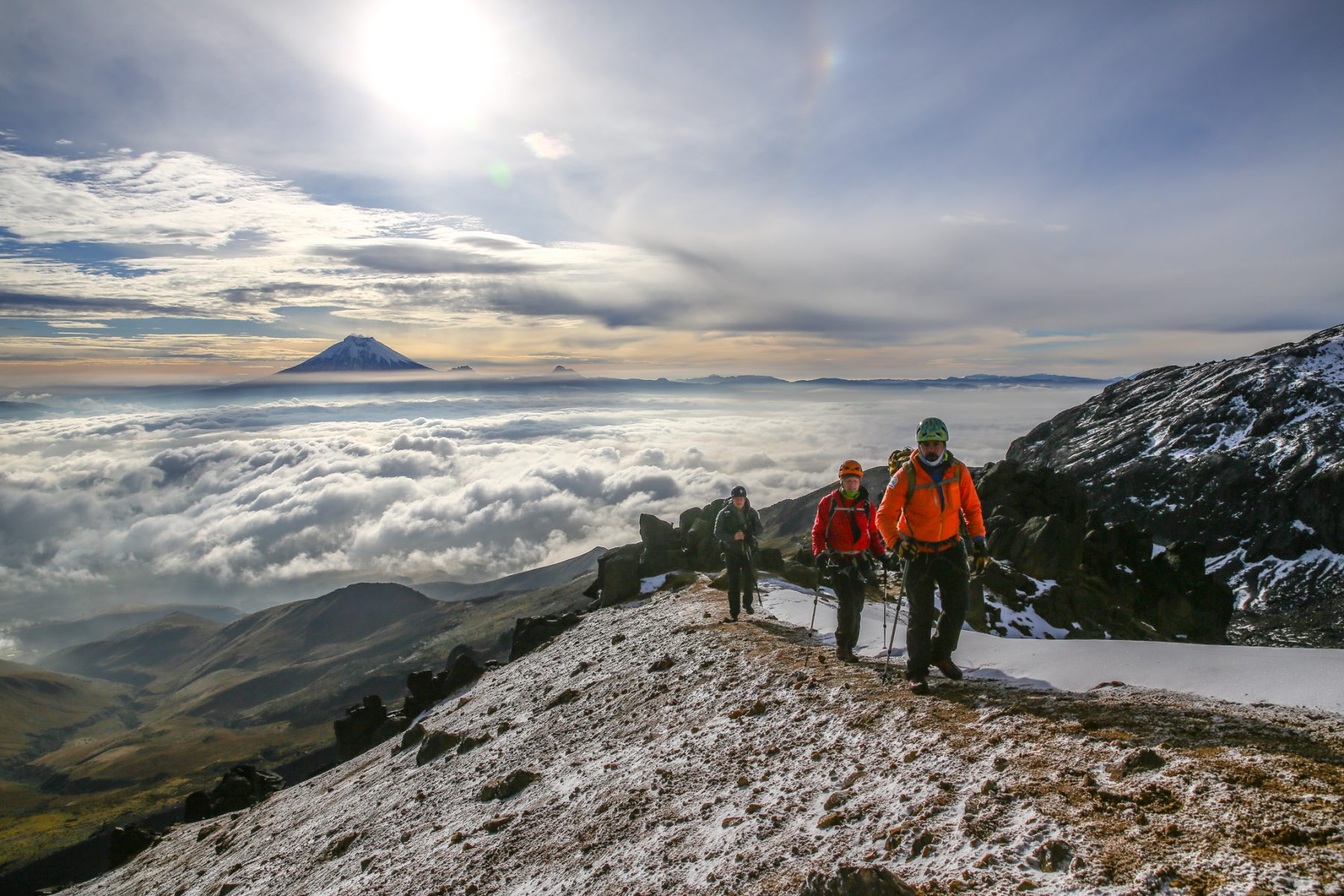 The mountains are easily accessible from Quito, Ecuador, an adventurous drive to the small towns and mountain regions brings us to the base of the mountains. We will spend a night in Quito to take in the local culture and sample the exquisite local cooking. Before making our way to the start of the first acclimatization trek/climb we have time to pack and organize equipment on the sunny grass of our logistics operators hacienda.
A 4-wheel drive truck ride will transport the group and gear to each of the huts located at on the mountains of Cotopaxi and Chimborazo. Here we will take a day or two to relax, hike, and acclimatize. As soon as we have taken some time to review basic skills, we are ready to climb to the summits.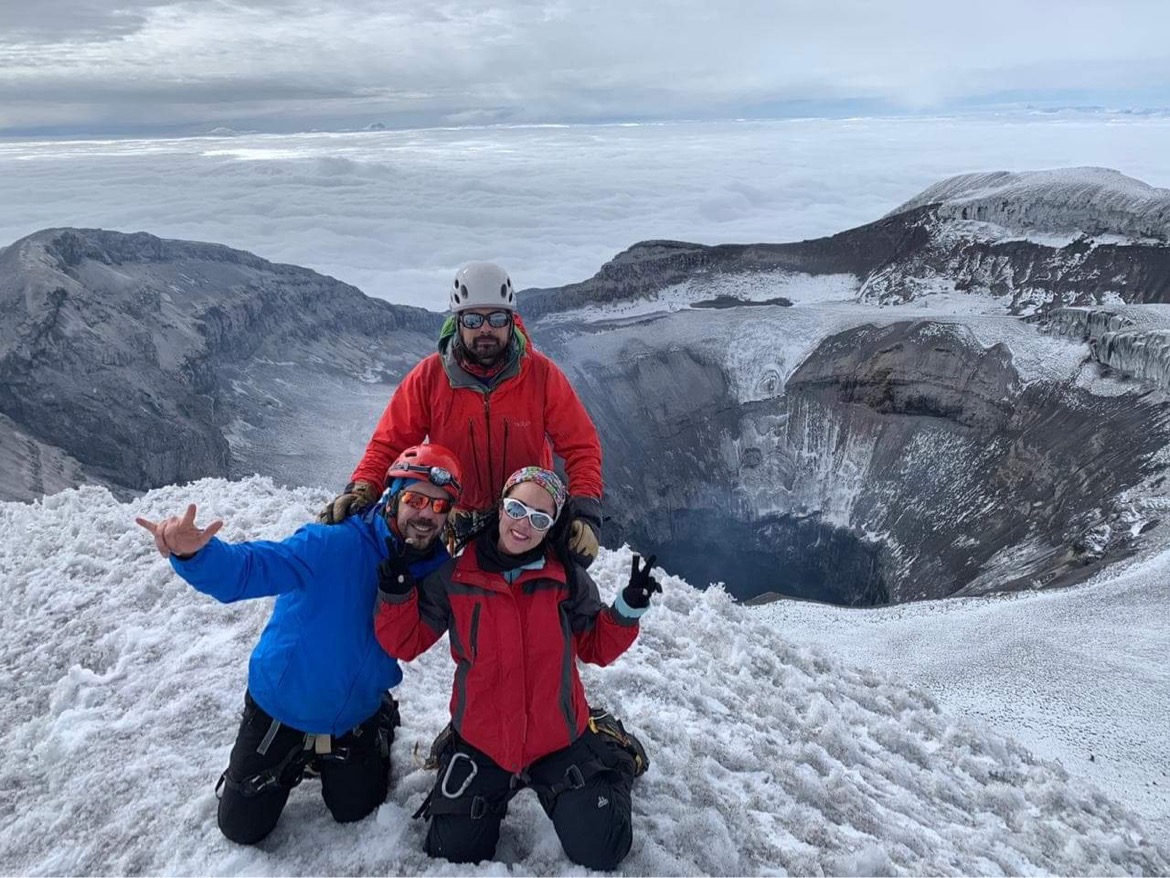 The routes travel via moderate snow slopes and glaciers, progressively increasing in difficulty from basic trekking for acclimatization on the Ilinizas, then to Cotopaxi, and finishing with the most in depth and demanding of the mountains, Chimoborazo .
In between each of the mountains and after the climbs we will join in a celebration dinners, hot soaks, and amazing mountain culture in quaint mountain lodges. At the culmination we travel as a group back to Quito for a final evening for the culmination of the expedition.
Photo Gallery
Projected Itinerary
Day 1: Arrive to Quito, night at Hotel Embassy at the famous "Mariscal" area. See Quito visit day.
Day 2: Acclimatization hike, and then after Ruco Pichincha back to Embassy Hotel in Quito.
Day 3: After Otavalo Market and a short hike we go enjoy the great farmhouse of Casa Mojanda
Day 4: We drive to the Ilinizas Area and hike for 3 hours to Ilinizas Hut
Day 5: Summit day at Ilinizas after a great climbing day we go rest and enjoy jaccuzzi at La Chuquiragua lodge at El Chaupi
Day 6: Move to Cotopaxi hut.
Day 7: Cotopaxi hut, skills review and acclimatization
Day 8: After the summit attempt at Cotopaxi we go rest at Tambopaxi in the national park
Day 9: We drive to Chimborazo area and stay at La Estrella del Chimborazo lodge
Day 10: Drive to Chimborazo hut
Day 11: Summit morning and return to hut to stay or drive to Baños city to rest for night
Day 12: Drive back to Quito during the day time and depart home flight.
Trip Costs
Trip Cost Includes
Mountain Professionals Mountain Guides
Pick up / drop off at Airport to / from our hotel
Hotel Accommodations (based on double occupancy)
Breakfasts in hotels
Private transports
Lunches and Dinners per schedule. Note some meals on own, arrival night, last night before flight etc.
Full mountain services, equipment, meals, group climbing gear
Shared Porter service for group gear where required
Climbing and Hut permits
First Aid Kits, Radios, and safety equipment
Price does not include
Items of personal nature, individual travel costs, delays, taxis, etc
Personal clothing or gear
Alcoholic drinks and personal snacks
Recommended Travel/Trip Cancellation Insurance
Staff gratuities