Trip Information
Dates: June 27 – July 1, 2023
Cost: USD $1,300
Trip Begins in Seattle, Washington USA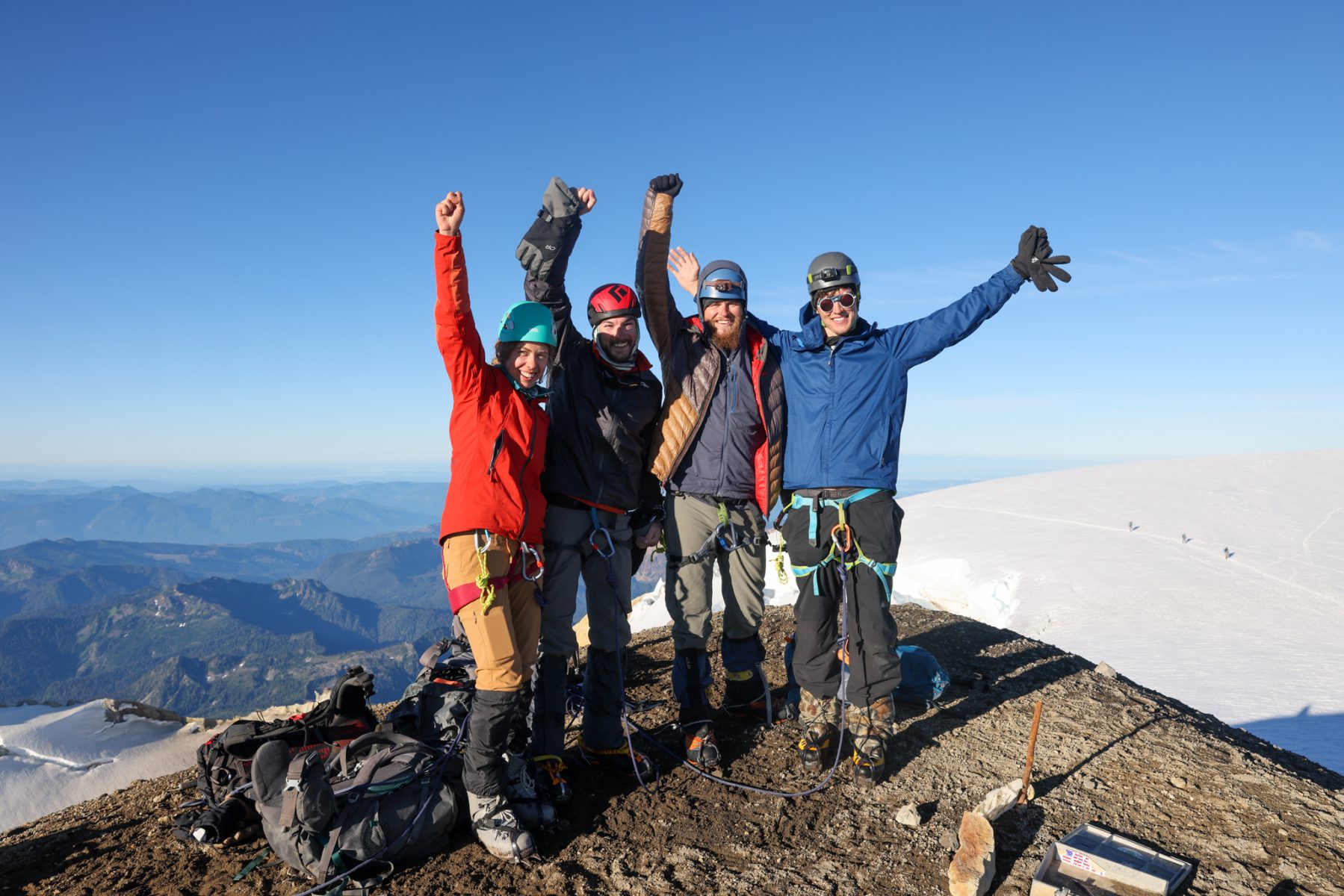 Mt. Baker Summit Climb and Advanced Skills – 2023
Gain exposure to Advanced mountaineering skills needed for larger and diverse mountains
Training for hard skills needed on all the Seven Summits in one course
Glacier skills, fixed rope practice, crevasse rescue, anchors, rope team travel, and more
2 Guides to 6 Clients for a great ratio and personalized instruction
Let Mountain Professionals take you there
Want to learn more about climbing Mt. Baker, in the Cascades? Contact us today and we will give you all the info you need.
Highlights of our trip
In depth Mountaineering Skills program, gain additional skills needed for peaks like Denali and Vinson
Fixed line ascension, traveling in a rope team, advanced snow anchors and camp skills
Gear Rentals available for specific climbing hardwear
Practice self care in the mountains, Leave No Trace skills, Rope Team Travel and more
Thank you so much for an amazing 5 Days on Mt. Baker! The program so exceeded my expectations and it was a privilege to learn from you! I so appreciated your patience and thoroughness in instruction, but also your kindness and humility. Also for making us feel comfortable in a group and guidance for next steps! Claire E.
Photo Gallery
Trip Description
A successful ascent of Mt. Baker can serve as an introduction to glaciated mountain climbing or as a stand alone climbing trip for those with previous experience. The moderate slopes of the Eastman Glacier Route provide an excellent training ground for skills practice and a foundation of general mountaineering experience. It is one of the classic North American climbs and is superb mountain terrain for developing or refreshing mountaineering/glacier travel skills. The summit of Mt. Baker is 10,781' (3286m) above sea level, making it the 3rd tallest peak in Washington State.
Though not as massive as Mt. Rainier, it is a true big mountain of the North Cascades that rises from the surrounding landscape rather dramatically so it is exposed to all the usual weather changes one would expect on a mountain of such height.
The approach from the trailhead to camp located at 5,500 feet takes approximately 4 hours. Once we set up camp, the remainder of the first day will be spent relaxing or in case of weather considerations with the schedule, used to begin skills training.
On day two, we launch into learning basic mountaineering skills. Topics will include; climbing knots, crampon footwork, harnesses, ice axe, self arrest, and rope team travel skills that are necessary to climb the peak. These are also the foundation mountaineering skills to take onward on future climbs of glaciated peaks beyond Mt. Baker.
This course is designed to educate mountaineers on the finer points of skills needed to take forward on larger expeditions. Days 2 – 4 allow the group time to learn and practice skills that can be used on your own climbing trips on glaciated peaks. Also, many of the skills that are needed to join an expedition to the Seven Summits mountains are all covered during the trip.
An early dinner is followed by as much sleep as we can get prior to a very early A.M. alpine start for the summit on Day 5. Our climbing route will take us from 6-8 hours as we get onto the Easton Glacier and ascend toward Sherman Peak. Close to the base of Sherman Peak, we continue climbing higher and skirt to the right of Roman Wall and the steepest section to the large summit plateau. We then traverse the crater rim to the northeast side to the summit of Mt. Baker.
Our climbing team will then reverse back down the same route to our camp and enjoy a rest before packing up camp and descending to the trailhead for the culmination of the climb.
The Eastman Glacier Route is a considered a moderate technical climbing route because we travel in rope teams and the guides may use snow protection during certain sections, but the actual climbing is straightforward and can be ascended safely with proper crampon and ice axe techniques. The route travels amongst crevassed glaciers, ridges and snow slopes of a moderate angle. It will require climbers to be fit and motivated day to day to get ourselves in position at the camp to make a successful ascent to the summit.
Projected Itinerary
Day 1: Our team will meet at the Sedro Woolley Ranger Station parking lot for an orientation and gear check. Transportation to the Schrieber's Meadow Trailhead will be via carpool. Well before your trip, we will share contact details of the group to facilitate shared rides from Seattle onward. We will trek on trail through temperate rainforest and reach the Railroad Grade Moraine and make camp at Sandy Camp at 5500 feet or higher (approximately a 4 hour hike to camp.)
Day 2: Will consist of instruction on mountaineering skills important to safely ascend the mountain. Topics will include; climbing knots, crampon footwork, harnesses, ice axe, self arrest, and rope team travel skills.
Day 3: We pack up camp and move a short distance to practice traveling on a rope team similar to how climbers travel on Denali and Vinson. Discussion on personal glacier rigging system for big mountain glacier travel. Dig in and set up a proper alpine camp site.
Day 4: Practice skills including; rappelling, fixed line ascension, as well as snow anchors and crevasse rescue set up.
Day 5: A pre-dawn alpine start to climb to the summit. The climb takes on average 8 hours to the summit and back to high camp. After a short rest to rehydrate, eat and pack camp, we'll descend to the trailhead for the end of the program in the mid to late afternoon.
Trip Costs
Price Includes:
Mountain Professionals Guides / Instructors
Team equipment (group climbing gear, cooking equipment, mountain tents, sleds)
Breakfasts and Dinners
Comprehensive First Aid Kit and Wilderness First Responder Guide Staff
Communication, on mountain radios and team dispatches
Price Does Not Include:
Transportation to/from Seattle (a detailed brief will be sent about meeting in Sedro Woolley, for ride sharing)
Lodging after the program, we recommend staying in Seattle prior to home flight
Personal clothing and equipment
Personal snack food and lunches on the mountain