Trip Information
Dates: April 6-May 29, 2024
Western Guide Led Everest Team with Ryan Waters $65,000 usd
Lhotse Climb Optional Add On: USD $18,000
Trip Begins in Kathmandu, Nepal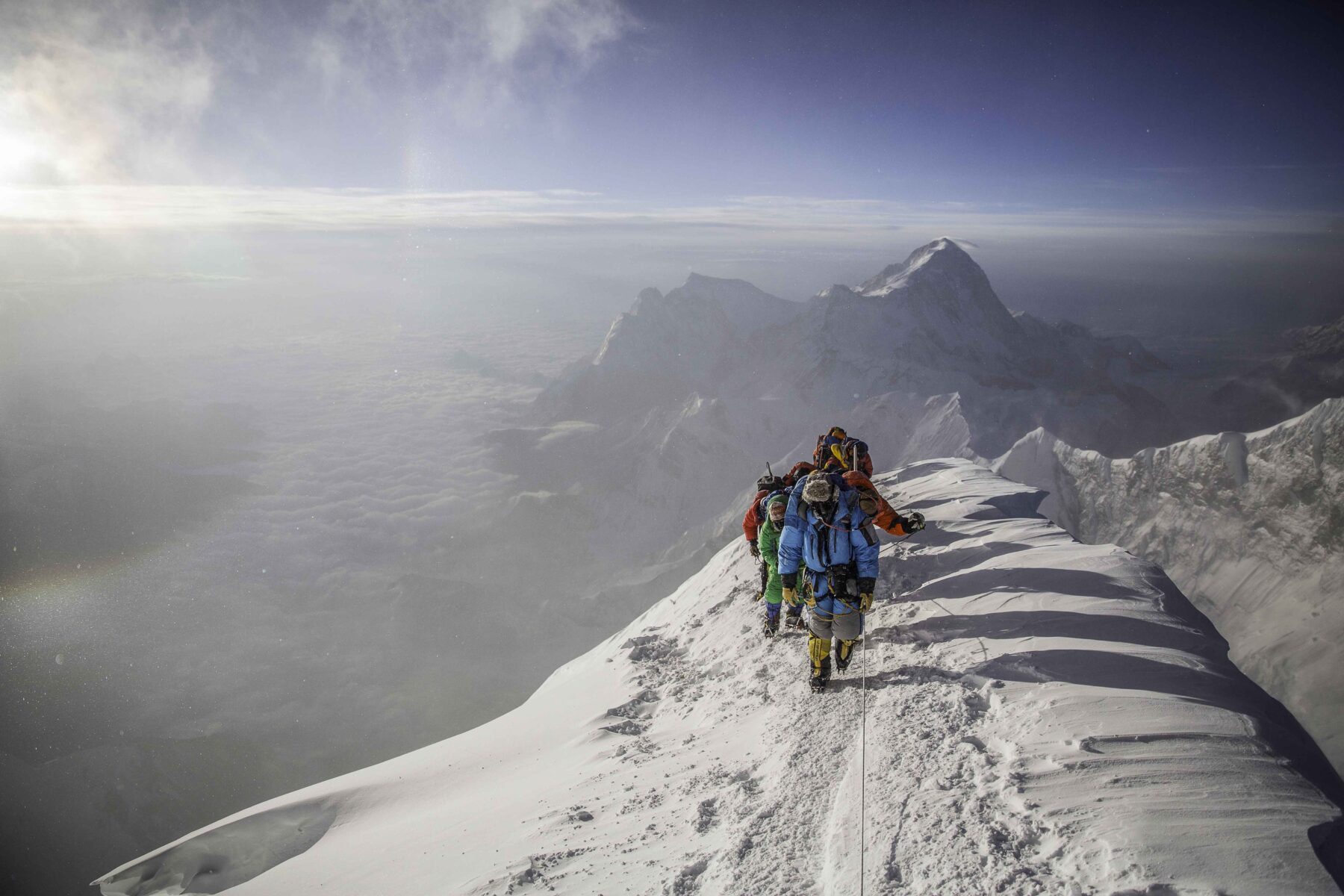 Our Everest expedition for the 2024 season
Join the Mountain Professionals team and veteran Everest leader Ryan Waters (7 summits of Everest) for our Himalayan Spring expedition. We lead trips each season to the summit of Everest and are already accepting interested climbers for 2024 on two optional programs.
Sometimes names can be misleading, but when it comes to Mountain Professionals the name couldn't be more accurate!  When I decided to climb Mt. Everest as part of 'THE QUEST' TV / Film Series, there was little doubt on who I wanted to entrust my life with and to handle the in-depth logistics needed for our 52 day cinematic adventure to the top of the world.  Excellent company, excellent people, excellent experience!

Alex H., USA
All our expeditions feature smaller size groups of climbers so that everyone receives the same high-quality climbing experience and logistics package. Our expedition guides act as the leadership on the mountain and as a resource at base camp to provide continuity. You are in a small group with guides and our additional Sherpa climbing staff, managing risk, observing route conditions, and able to give experienced climbers the support system they need to make a successful ascent of Everest.
The Mountain Professionals Difference
A Mountain Professionals Everest Expedition provides the same logistics, lodging, staff experience, gear, base camp experience, and comfort level as any higher priced trip, but we maintain a more competitive price.
Seven time Everest Summitter Ryan Waters has led over 21 eight-thousand meter expeditions. Ryan is the overall expedition leader of both our programs and is the main mountain guide for the Western Lead Climbing team.
Helicopter flights from Kathmandu to Lukla and Basecamp back to Kathmandu
Top Everest logistics are provided throughout the trip from Kathmandu to mountain camps
IFMGA Guide Tashi Riten Sherpa (7 Everest Summits) as one of the mountain guides and is the leader of the Sherpa Climbing team.
Optional Add On Services:
Private or One to One American/Western guide or Sherpa Guide for entire expedition
Additional Oxygen Bottles
Personal climbing sherpa guide on all carry days to limit carrying of personal items
Contact us for details if you are interested in tailoring your climb to specific needs.
Let Mountain Professionals take you there
Want to learn more about climbing Everest, the highest mountain in the world? Contact us today and we will give you all the info you need.
Photo Gallery
Highlights of our Everest Expedition
One to one climbing Sherpa to client ratio on summit day
Seven Bottles of Oxygen Included in trip cost for high flow rate
O2 from Camp Two on Summit Push
One to One Private American or Sherpa guide option available
Industry-leading Large Personal 6x7x7 foot Base Camp box tent for each climber with a bed mattress, carpet and front storage area for personal gear
Veteran American mountain guide staff with 20 years of guiding in Nepal, to ensure seamless delivery and safety procedures
Communications tent with access to unlimited WiFi, satellite phone and email, dispatches of the team progress on our news site
Emphasis is placed on providing high end logistics, staff, equipment and services to a small team of climbers
Single Accommodation in Kathmandu at the Aloft Hotel by Marriott
Trip Description
At 29,035 feet (8,850 meters), Mt. Everest is the world's highest peak and one of the Prized 7 Summits (the highest mountain of each of the continents). The Sherpas call her Chomolangma or Mother Goddess of the Earth. So much history and culture has evolved around Everest that this trip has become the ultimate goal for many mountaineers throughout the world. Join the Mountain Professionals Everest veterans for a privately organized and led expedition to the world's most famous mountain. Our trip consists of a high western staff to client ratio, 1:1 Sherpa to client ratio, and a small team mentality. We feel that this is a huge advantage in your summit chances and is backed up by our previous high percentage of summit success.
Our Everest Expedition Route
The Southeast Ridge of Everest, in Nepal is one of the classic routes in the Himalaya. First pioneered by Sir Edmund Hillary and Tenzing Norgay in 1953, the route is accessible via the Khumbu Valley, leading to the famous Khumbu Icefall, the Western Cwm and eventually to the beautiful Southeast Ridge. The key to a successful ascent of Mt. Everest is patience, good organization of logistics, perseverance and little luck from the weather.
Although we had 8 000 metre peak experiences, the Everest 2019 expedition with Ryan and the rest of the Mountain Professionals' team delivered beyond our expectations. Safe, professional, fun, and rewarding in many ways. A mountain and experience that will follow us for the rest of our lives. Honoured beyond words to have climbed the big E with such a professional, experience, and skilled team!

Benedicte and Gaute T. Norway
Our Team Philosophy
We feel that being part of a strong team on Everest has great advantages for reaching the summit. Our expeditions, although led by professional mountain guides, has a feeling of relaxed efficiency, with two-way communication between the staff and the team members. We feel there is a huge advantage to joining a small, highly organized group of climbers, led by our staff to manage all the on-mountain logistics and risk management. This ensures that you can concentrate on climbing Everest and can rely on the experience of the expedition leader.
Ryan, Thank you so much for taking such good care of my husband while on Everest. He says 'Ryan is the guide of guides'. He has always spoken highly of other guides so this means he really thinks much of you and your ability to teach and lead.

Daralene B. Wife of Everest Summiteer Al B.
Everest Expedition Route Description
We will meet in Kathmandu, Nepal for our team organization and final preparations. Our tour will spend several days in the city to rest, visit local sights, and prepare. Then, we will take a domestic flight via helicopter to the village of Lukla and begin our 9-day hike to basecamp. Our goal is to reach the 17,000 feet basecamp feeling strong and ready to begin the climb.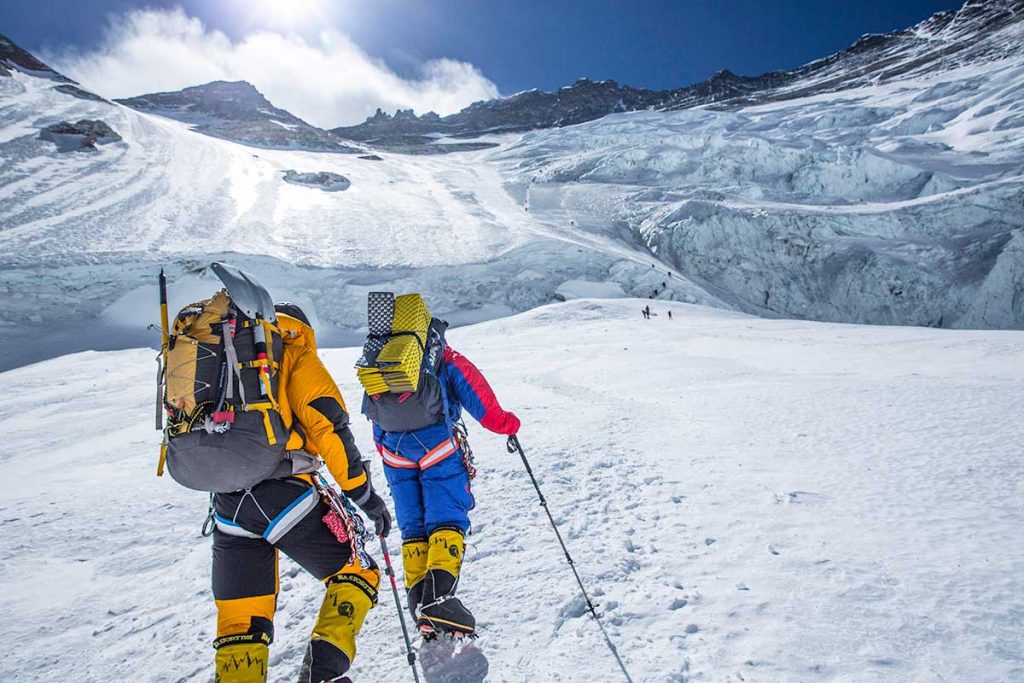 The route from Base Camp climbs through the Khumbu Icefall to Camp 1 at 19,000 feet. After sleeping in C1 we return to Base Camp for a rest and begin our planning for the next climb to the higher camps. Then, we return to the upper mountain, bypassing C1 and going directly to Camp 2 at 21,000′. Our C2 location eventually becomes an advanced BC where we maintain a comfortable dome dining tent and permanent cook staff. After sleeping in C2 for several days we return to Base Camp. Our last foray up the mountain for acclimatization brings us to the Lhotse Face and we ascend to 24,000′ to Camp 3. This will be our highest sleeping night in preparation for the summit push.
Thanks for the hard work, it was a great trip and I would be happy to be a reference for others considering an Everest Expedition with you!

Scott K.
On summit day we climb from the South Col at 26,000′ or Camp 4, up through mixed terrain to the Balcony. Here we will take a break and change O2 bottles. We continue to the South Summit and over the Hillary Step. Finally, we reach the most famous of all summits, Everest at 29,035′.
This is the highest quality expedition you will find for an exceptional price. All the in-country transportation, the on-mountain services, food, tents, yaks, oxygen, and guides are included and are of high quality.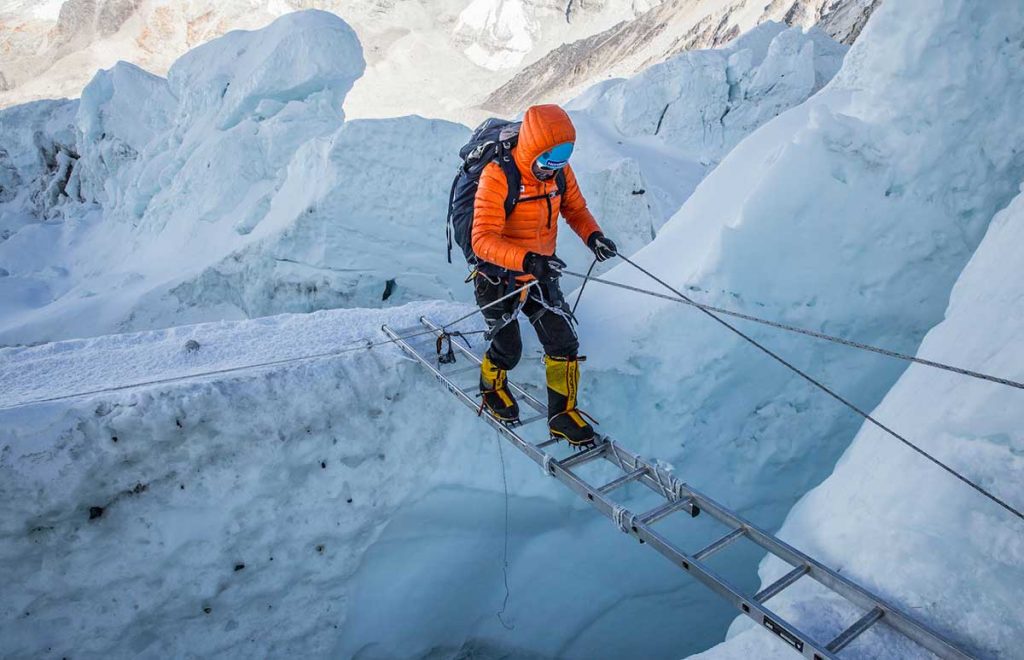 Recent Trip Dispatches
Projected Everest Expedition Itinerary
Day 1: Arrive at Kathmandu Tribuvan International Airport. Our team transports to our hotel in Thamel.
Day 2: Relax and enjoy the vibrant city of Kathmandu. Some organization of personal gear and needs.
Day 3: Private team meeting and logistical/gear needs. Team dinner and celebration.
Day 4: Internal Flight to Lukla and trek to Phakding at 8,700′.
Day 5: Today we hike to the Sherpa town of Namche Bazaar. Here we visit the city and experience the people in the Sherpa Capital at 11,300′.
Day 6: Here we take another day in Namche to carefully acclimatize. We can take a museum tour or trek around the hills of this beautiful location.
Day 7: We will hike along the Dodh Kosi River and eventually make our way through the Rhododendrons to the Tengboche Monestery, sleep in Deboche.
Day 8: Today we hike to Dingboche at 14,000′ and view the famous Ama Dablam.
Day 9: We will likely take a rest and acclimatization day here to ensure good health.
Day 10: We walk along the Mani Stones and climb to the small village of Lobuche at 16,000′.
Day 11: If weather permits we trek to the top of Kala Pattar and get stunning views of Everest, tonight we sleep in Gorak Shep at 17,000′.
Day 12: We make our way to Everest Base Camp at 17,500′.
Day 13-49: This is our climbing and summit window; we carefully pick the most stable weather and make our attempts sometime mid to late May.
Day 50-57: We have carefully planned in extra time to allow for a late weather window and also have the option to fly direct back to Kathmandu.
Day 56: Departure to home country.
Everest Trip Costs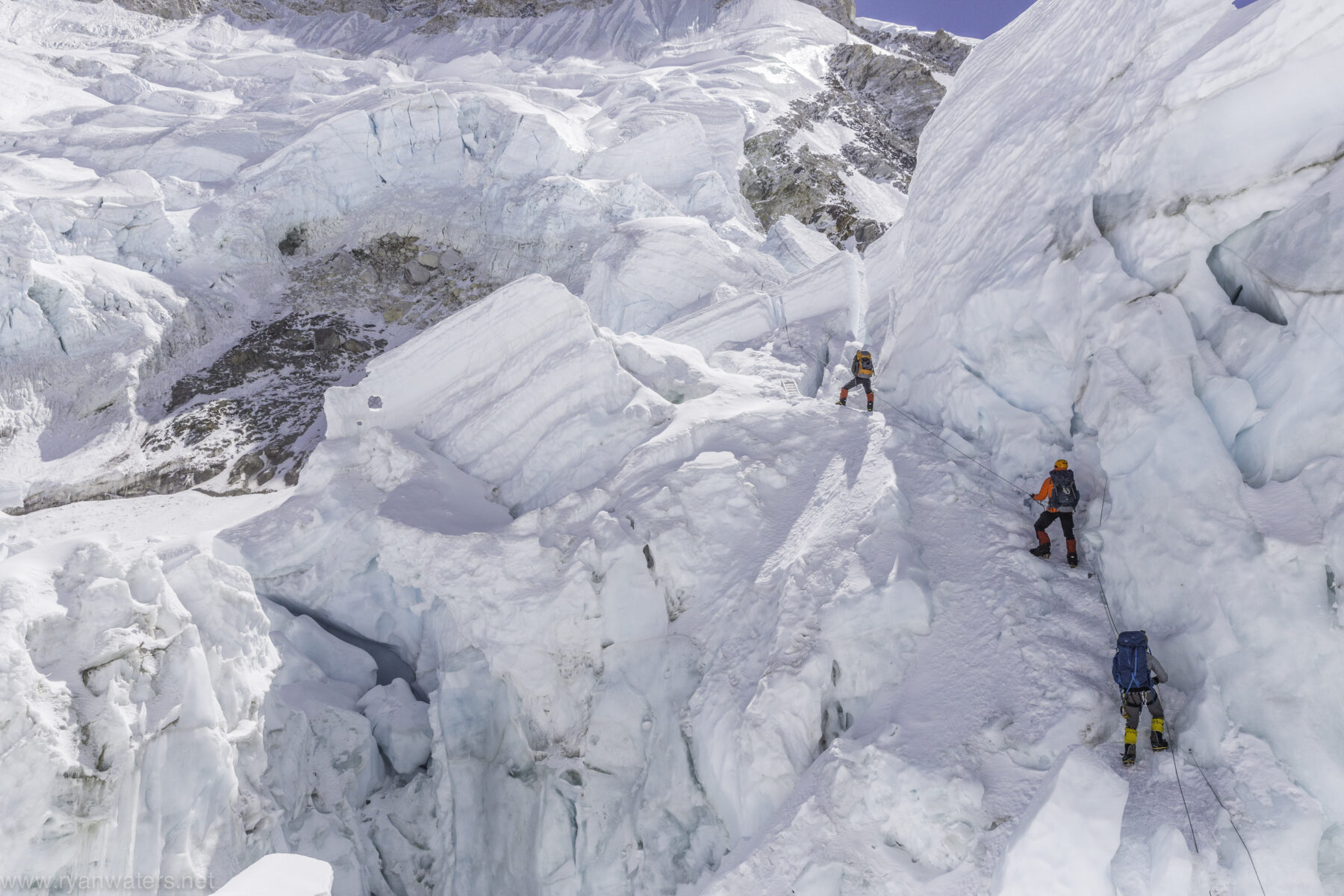 Everest Expedition Trip Cost Includes
Mountain Professionals western guides at 1:4 guide to client ratio.
1:1 Nepali Sherpa climber to client ratio.
Expedition permit.
Four nights private accommodation in the Kathmandu at the Aloft Hotel.
Full board on twin sharing basis on the Trek at high quality teahouses.
Round Trip Kathmandu to Lukla flight. Via Helicopter upgrade over fixed wing.
Baggage transfers, porters, and guides to and from Base Camp.
Cooks, kitchen and climbing staff at BC and Camp 2; equipment allowances, daily wages, insurance, and food.
Carry bonus for Sherpa staff.
Unlimited WiFi available to our climbers at our base camp with our team system.
Heated and Carpeted- Dining Dome, full kitchen, shower and toilet tents, chairs and tables at BC with the highest quality food served by our kitchen staff.
Personal 6x7x7 foot box tent for base camp with carpet and bed mattress.
Personal Base Camp Tent also has own solar battery and panel for charging.
Mountain Hardwear Trango 3 mountain tents.
Camp Two dining dome with carpet, power and heated.
Communications and Lounge Dome, heated and carpeted, projector with movies.
Imported US food at BC; equipment allowances, daily wages, insurance, food and lodging for Liaison Officer and Interpreter.
Icefall and all route fixing costs.
Group climbing equipment, high altitude tents, stove and fuel; high altitude food imported from the United States.
Two way radios and VHF BC to mountain communications; BC satellite phone communication setup.
O2 from Camp Two upwards on the Summit Push.
7 bottles of oxygen and use of Summit Oxygen mask and regulator.
Comprehensive medical supplies and Wilderness EMT/First Responders, plus HRA member visits.
Weather Reports provided by World Wide Weather Expeditions.
Price Does Not Include
International airfare to and from Kathmandu.
Meals in Kathmandu, outside of team dinners before and after expedition.
Drinks, laundry, postage, telephone calls and all other items of personal nature.
Nepal visa on arrival.
Optional helicopter departure from base camp post summit.
Personal climbing clothing and equipment.
Travel/Trip Cancelation.
Optional Pre-Summit drop down rest in Namche.
Rescue Insurance (required).
Staff gratuities.