Trip Information
Dates:
October 8 – 19, 2023
December 25, 2023 – January 5, 2024 (New Year's Summit Trip)
July 20 – 31, 2024 and August 15 – 26, 2024
Kilimanjaro Climb + Safari Cost: USD $5,600
Climb Only options on all dates – Cost $4,900 USD
Trip begins in Kilimanjaro Airport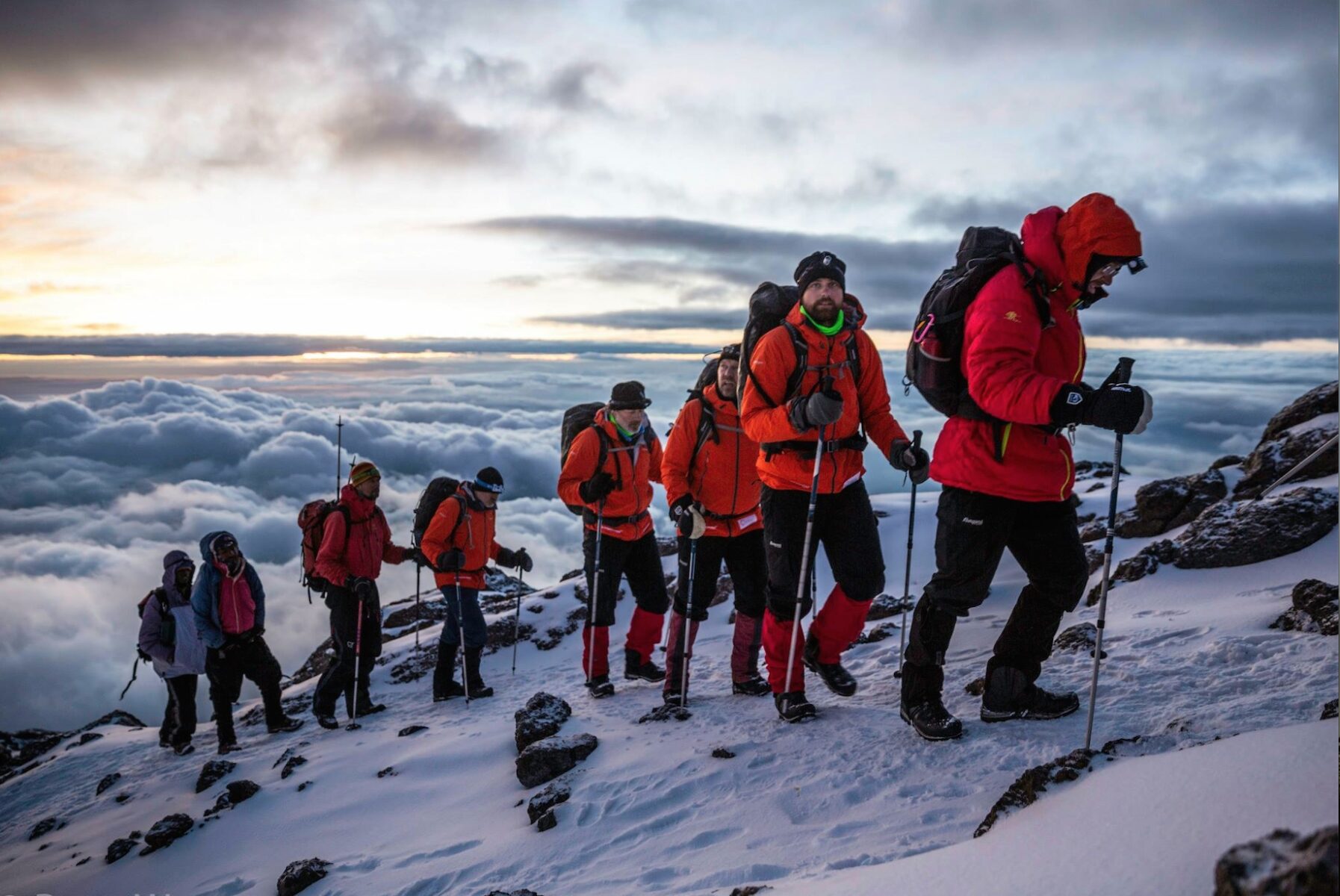 Climbing Kilimanjaro Expedition – 2023/'24 Seasons
Seven-day Machame climb offers plenty of time for acclimatization
2 -Day Safari included at the end of our climbing trip, with Tarangire and Ngorongoro Parks
Climb the highest peak in Africa, available to all skill levels
Summit Kilimanjaro on New Year's 2024 Trip!
Let Mountain Professionals take you there
Want to learn more about climbing Kilimanjaro, the highest mountain in Africa? Contact us today and we will give you all the info you need.
Highlights of our Trip
Excellent meals prepared by our talented cook staff, served in our comfortable dinning tent dome
Veteran American mountain guides with over a 16 years of guiding on Kilimanjaro to ensure seamless delivery
High end logistics package with Mountain Hardwear tents, well run transfers, emergency oxygen, professional guides with plenty of support staff, no detail is left behind
Stylish accommodation at high end hotels while in towns to enjoy the Tanzanian hospitality
Ngorongorro National Park with lodging at the famous Wildlife Lodge at the crater rim
Climb Kilimanjaro Trip Description
At 19,340 feet (5,895 meters), Mount Kilimanjaro is Africa's highest peak and one of the prized 7 Summits (the highest mountain on each of the continents). Join Mountain Professionals veteran mountain guides for this amazing journey to Africa and climb Kilimanjaro, one of the worlds most famous mountains. Our scheduled route of choice is the technically straightforward Machame Route.
My daughter and I climbed Kilimanjaro with Mountain Professionals and it proved to be the experience of a lifetime. The trek itself was amazing, but with Mountain Professionals, the service, food, professionalism of the crew, and the climbing expertise were unbeatable. We would not take on such a trek with any other company. Thank you Ryan and Mountain Professionals for the experience and great memories! Kathleen K. 2021
Climbing Kilimanjaro via the Machame Route allows us an excellent opportunity to summit the mountain because this route is accessible to a wide range of experience levels. Good fitness is the key to the climb, there are no technical difficulties but we require our team members to have mental determination and good physical conditioning.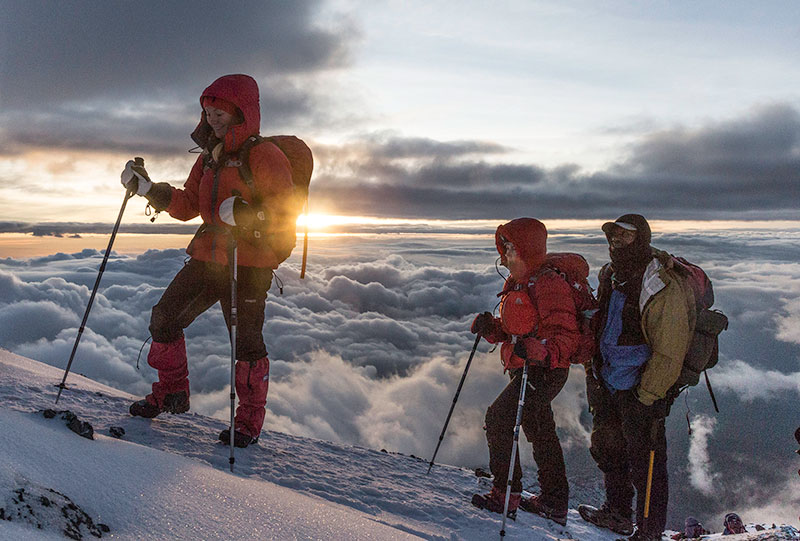 As with any high mountain route, the potential for serious weather is always a possibility and we will be trekking at high altitudes. We will spend several days trekking on the mountain, gaining valuable acclimatization before making a summit attempt to the highest point known as Uhuru Peak. Our route is considered by many to be the most beautiful of the Kilimanjaro routes, with stunning views of the African plains and the retreating glaciers of Kilimanjaro.
The Mountain Professionals Difference
Your entire expedition will be organized and managed by our highly skilled professional Western and African staff for the adventure to "the roof of Africa". All of the in country transportation, the on mountain services, food, tents, porters, and guides are included. While climbing to altitudes of close to 6,000 meters, you will benefit from the experience and judgment that Mountain Professionals provides.
A huge debt of gratitude to Mountain Professionals for building a great team in Tanzania and allowing me to experience an amazing (seamless) trek to Mt. Kilimanjaro! All 10 trekkers summited and felt great, thanks to the safekeeping, knowledge and experience of Ryan and his team. I highly recommend Mountain Professionals to make your dreams come true! Ginna G. 2021
We will manage the conservative acclimatization schedule, coordinate the on mountain decisions, and look after the health and safety of each individual team member. We believe our well-structured and efficient style will give you the best opportunity for a safe, successful and above all fun experience in Africa.
Our trip to Kilimanjaro with Mountain Professionals was amazing! I really appreciated the special effort made to help my mother (then 67 years old!) through some of the more difficult sections of the hike. Dave was always prepared with answers to questions and stories to keep us entertained. Dave was always professional and very knowledgeable in the alpine environment; which kept us ahead of any problems! Thanks to Dave and Mountain Professionals our longtime dream trip was nothing but a success! Jennifer B.
Photo Gallery
Itinerary for Kilimanjaro Climb + Safari
Day 1: Arrive at Kilimanjaro International Airport. Our team transports to our hotel in Moshi, which is located approximately one hour from the park. All planned services are included, transport, dinner and hotel.
Day 2: Rest Day in Moshi to allow for time to relax after international flights. Valuable time going through gear and clothing check, plus overall team information meeting.
Day 3: From Moshi we transport to the Machame Park gate on the southwest side of Kilimanjaro. Here we trek through the lush forest and ferns, continue to our first camp at 3,000m. 5-6 hours walking.
Day 4: Here we will hike out of the dense forest to a camp near Shira Cave at 3,840m. 4-5 hours walking.
Day 5: From Shira, we will trek towards the Barranco Valley for a camp at 3,950m. Today we may take an acclimatization hike above our sleeping altitude. 5-6 hours.
Day 6: Today we climb the eastern side of the valley and we will enjoy views of Kilimanjaro's ice fields. We will continue trekking until we reach our camp in Karanga Valley. 4-5 hours of walking.
Day 7: Here we will walk up to 4,750m. Make camp after a short hiking day and prepare for the summit attempt. 4 hours walking.
Day 8: We leave very early this morning around 1 am heading towards Stella Point on the crater rim and on to Uhuru Peak. Congratulations on a safe and successful climb! We will descend back down to approximately 3,400m to camp.
Day 9: From here we have a nice 5-6 hour trek to the park gate and transport vehicle. Return to Arusha for our team dinner celebration.
Day 10: Safari day in Tarangire National Park with overnight in Ngorongoro Wildlife Lodge.
Day 11: Safari day in Ngorongoro Conservation Area with game drive and return to Arusha for evening at the Kibo Hotel.
Day 12: Closure of group expedition. Transport to Kilimanjaro International Airport.
Climbing Kilimanjaro Trip Costs
Trip Cost Includes
Mountain Professionals guides.
Transfer from Kilimanjaro International Airport to and from Moshi.
4 Nights accommodation in Moshi/Arusha at fine hotels and safari with evening in Ngorongoro Wildlife Lodge at the crater rim.
Transfer to and from Kilimanjaro Park Gate.
Kilimanjaro National Park gate fees.
All hut or camping fees for the climb.
African guide, assistant guides, porters and cooks.
All meals and utensils on mountain.
Camping equipment including tents, mattress, dome dining tent with table and chairs.
Government taxes.
Price does not include
Items of personal nature, individual travel costs, delays, taxis, etc.
Personal Africa entry visas.
Personal clothing or gear.
Alcoholic drinks and personal snacks.
Recommended Travel/Trip Cancellation Insurance.
Staff gratuities.