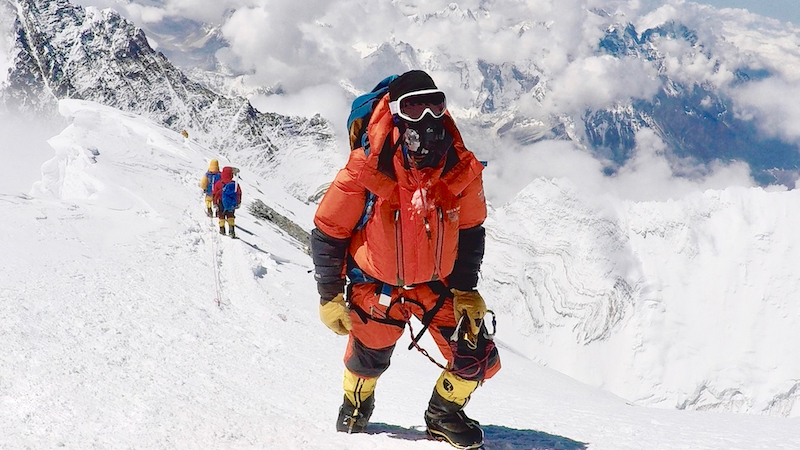 Conquering Hemophilia and the Seven Summits with Mountain Professionals
In 2015, Chris Bombardier's Seven Summits journey nearly came screeching to a halt.
He was all set to climb Vinson Massif, the highest mountain in Antarctica, with Mountain Professionals. Just 45 days before his departure, he got a letter: His application had not been cleared for the trip in Antarctica. This was the first time the doctors reviewing it had seen a hemophilia diagnosis on an applicant's medical records. They had to make a call. With safety as the paramount goal and unsure that a bleeding disorder would be safe in such a remote location, they decided climbing that season needed further review.
"It was crushing," Bombardier recalls.
Managing hemophilia in the wilderness
Bombardier was diagnosed early in life with severe hemophilia B, a genetic disorder that prevents blood from clotting normally. That means once Bombardier starts bleeding, he doesn't stop. It also means he's prone to sporadic bleeding episodes, which include internal bleeding into muscles and joints. As a kid, Bombardier was always in and out of the hospital. His mom, he says, worried constantly.
But treatments have come a long way in recent years. Eventually, Bombardier was able to dial in his medical routine enough to stay active, competing in baseball all through college. It wasn't until after he graduated, though, that he started really putting his disorder to the test.
Organized sports always take place in urban or suburban areas. During competitions, there are EMTs on call. The hospital is just a short drive away. In the wilderness, all that changes.
"After college, I moved back to Colorado and started skiing with my uncle, Dave. He's the one who really stoked my interest in the outdoors and in climbing." Dave had climbed Denali in the 90s. Bombardier remembers being intoxicated by his uncle's stories. He started backcountry skiing with him regularly.
Dave taught his nephew the importance of self-reliance in the outdoors, including being able to take care of his medical condition for both his safety and that of his partners. "But he never discouraged me from trying anything," Bombardier says. It was liberating.
Pretty soon, Bombardier was hooked on climbing mountains, but he didn't really consider any serious high-altitude climbs. That is, until 2011.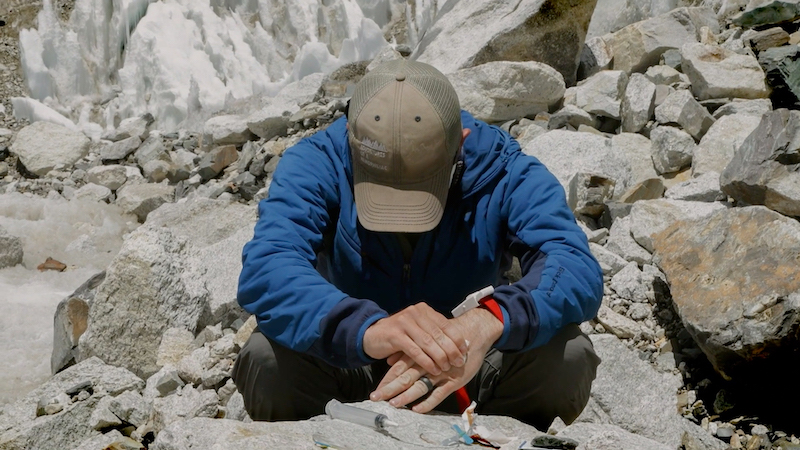 Bombardier, taking a break for an infusion of medication.
A wakeup call
By then, Bombardier was working in a hemophilia lab at the University of Colorado. He got an opportunity to fly to Kenya to help set up a new lab there.
"Tanzania is really close, which meant Kilimanjaro is really close," he remembers thinking. He even convinced his uncle to join him on the climb. But shortly after Bombardier landed, he realized that the biggest takeaway from the trip wasn't going to be the views from the top of Kilimanjaro.
"For the first time, I saw what hemophilia was like in a country without access to adequate healthcare," he says. "It was a wakeup call." And even after his lab work was done and he set off for the summit of Africa's highest peak, he couldn't get those people out of his head.
"On the whole climb, I just kept thinking, 'I get to climb this mountain while people around here with the same condition as me are just struggling to live."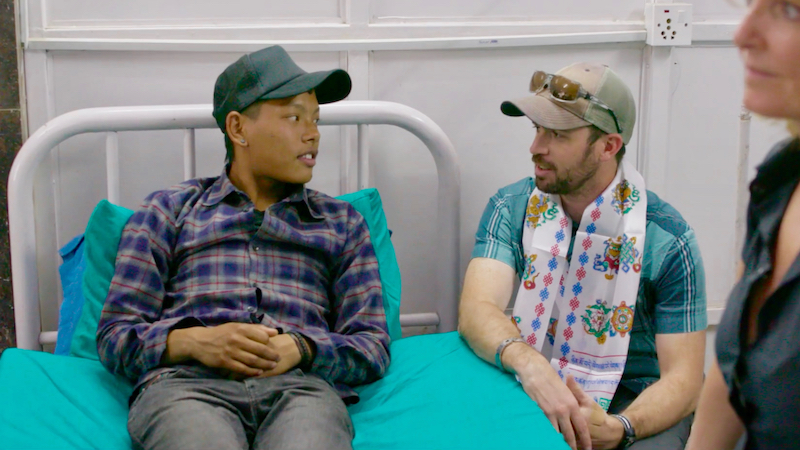 Bombardier visits members of the hemophilia community in a hospital in Nepal in 2017.
Finding a partner for the Seven Summits
Not long after he returned home to Colorado, Bombardier was volunteering at the Breckenridge Outdoor Center, helping a group of kids with hemophilia climb a 13,000-foot peak. He admitted to a staff member that he dreamed of climbing bigger mountains. It could be a way to raise awareness about the disparities in hemophilia treatment available around the world, he figured. Shortly after the trip, that staff member introduced Bombardier to Ryan Waters, founder and head guide at Mountain Professionals.
"I got on the phone with Ryan and said, 'I want to do this. I have hemophilia. What do you think?'" Bombardier says. "Ryan was just super open and wanted to learn and figure out how to make things work. It was really cool." After talking, they decided to shoot for all Seven Summits. Aconcagua was first on the list.
Ahead of that trip, Bombardier found ways to keep his medicine insulated from the cold, and he split his stockpile of injections between his pack and Waters's so there would always be a backup supply. The summit expedition went seamlessly. 
Bombardier's mother, however, wasn't thrilled. After so many trips to the hospital with her son, she was understandably worried, he says. As he prepared for peak after peak, she'd joke, "Well, at least you're never going to do Everest." (When he announced his Seven Summits quest, that joke stopped pretty quick.)
Over the next few years, Bombardier ticked off Carstensz Pyramid, Elbrus, and Denali. Vinson would have been next, but the road block caused by the medical application felt like a dead end. After so much meticulous preparation and effort, this was a piece of red tape that felt completely beyond Bombardier's control.
"Then, when Ryan was down there guiding, he found the doctor for the logistics operator who was unable to clear my permit and spoke to him. Eventually they agreed that if I did Everest without issue, then I could come to Antarctica. I was really appreciative of Ryan advocating for me like that."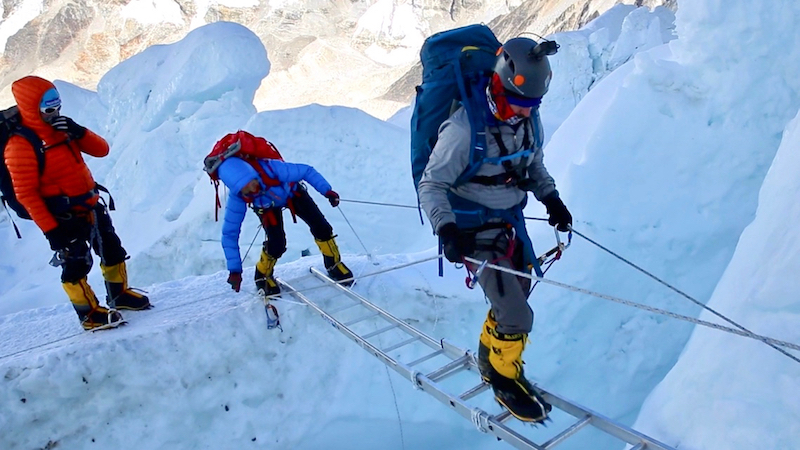 Bombardier crossing a crevasse while climbing Mt. Everest with Mountain Professionals in 2017.
Passing the test
Bombardier says the dangers of his condition were often on his mind. "I was able to comfort myself in knowing that I'd prepared myself in the best way possible, and that I and my doctors had made the best plan we could for taking my medicine. That eased those fears, I think," he says. (His rigorous preparation also helped ease his family's fears.) "Besides, the best part of climbing is that it forces you to remain really present in the moment."
Then, in 2017, came time for the big test: Everest.
But first, Bombardier needed to make a visit. When he landed in Nepal, he stopped to speak with members of the local hemophilia community. Listening to their experiences moved him—he wanted them to be a part of the journey. He got all the kids he visited to sign a flag, and vowed to carry it with him all the way to the summit.
He almost didn't make it there.
"There was a moment on the South Summit where I was tired. We had seen a couple people having issues with high altitude cerebral edema, which was scary. And then there are all the bodies you see along the climb. It got in my head a little bit," Bombardier remembers. When he looked across the ridge line to the imposing Hillary Step, the exhaustion overwhelmed him.
"I was trying to come to terms with not making it to the summit," Bombardier says. But Tashi Sherpa, the group's Sirdar, turned to him.
"Chris, you're here for a reason. You have a purpose. You can do this," Tashi said. He clipped his carabiner through Bombardier's, and the two of them started walking. Bombardier reached into his pocket and touched the flag with all those names on it, all the people whose stories he was carrying with him.
"I thought then, 'OK. I can do this,'" Bombardier says. Almost as soon as they began moving, he felt his strength return. All he'd needed, he realized, was that bit of confidence.
The summit was a success, and Bombardier submitted his new application for Vinson, his last peak, shortly after. It was accepted.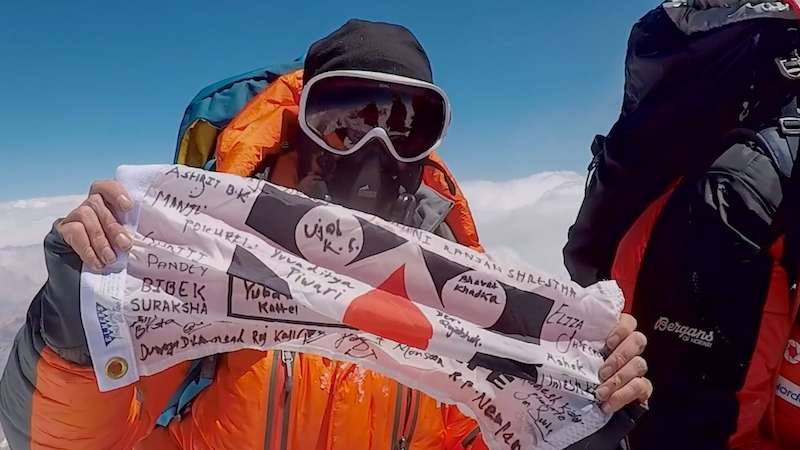 Nepal's hemophilia community signed a flag, which Bombardier carried to Everest's summit.
Changing the face of hemophilia
After they landed in Antarctica, Waters introduced Bombardier to the doctor who was crucial in making the final decision for him.
"The best thing was, that doctor was just as happy as I was that I'd made it down there. He said he didn't want to crush my dream—he was just trying to make a responsible decision." It was hard to tell who was more excited that Bombardier was successful on that climb. 
And, at the end of the day, that's what the journey was all about.
"A lot of people, especially parents of kids who get this diagnosis, are terrified," Bombardier says. "And if you google hemophilia, it's not a great picture sometimes. I wanted to show that you can still follow your passion. It doesn't have to be mountain climbing. There are lots of dreams you can chase—even if you have hemophilia."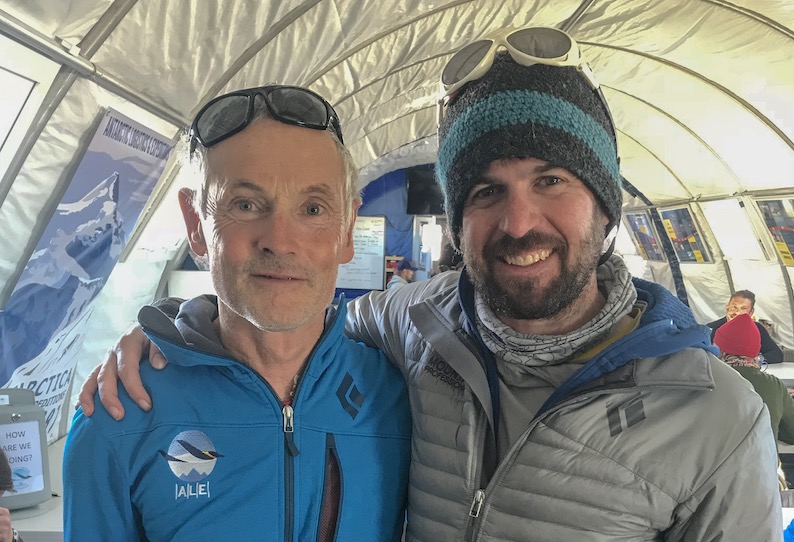 Bombardier poses with the Doctor, who had cleared his application to climb Antarctica's Vinson Massif. 
Bombardier Blood
Over his six-year journey, Bombardier was able to raise over $100,000 for the hemophilia non-profit Save One Life, and secure sponsorship for over 100 children in need of treatment for bleeding disorders. Alex Borstein, producer and actor famous for her work on Family Guy and The Marvelous Miss Maisel, also donated $100,000 to the cause. Borstein also became the executive producer for the upcoming film, Bombardier Blood, which will be released August 18. 
You can learn more about the film at bombardierblood.com.