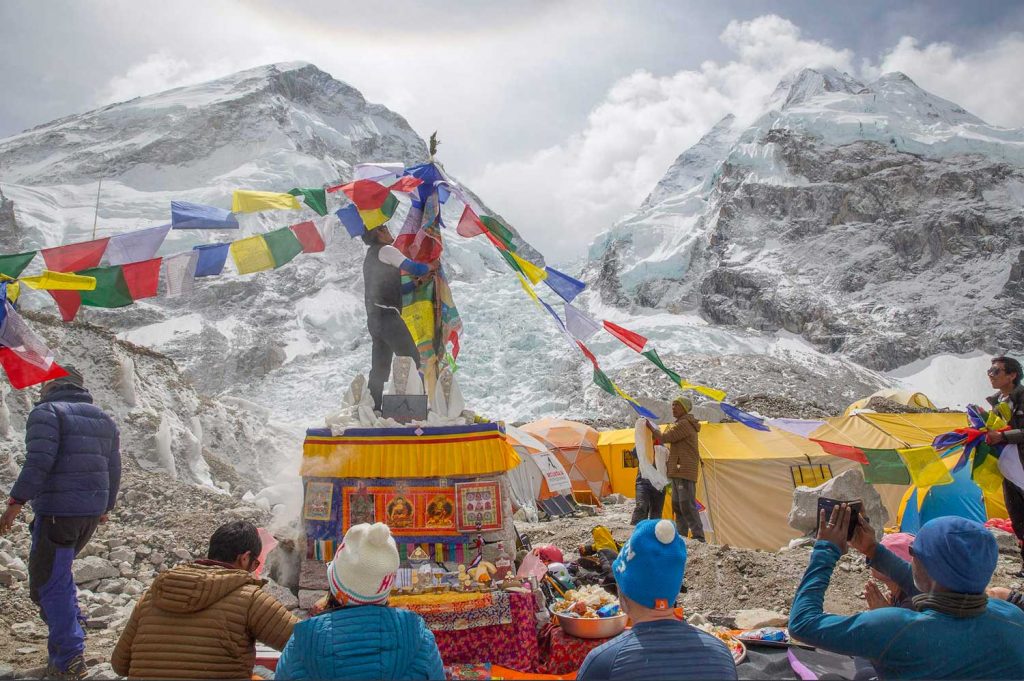 Things are well underway here for the Mtn Pros Everest team. We have had a few days to settle into base camp, which is always a good feeling after the 9 days on the trek. We met up with our super cook staff Sanchar and Sucre and everyone took some time to move into their personal tents. We provide each of our climbers with large box tents that are carpeted and have a bed mattress with pillow, not to mention the front porch area that is perfect for storing all the individuals climbing gear hanging in order. It makes a big difference to stand up in your own little apartment while at base camp. The first days are nice and slow as we dial out the communications tent, the dining dome and take showers etc.
Yesterday on the 14th, we had our Puja Ceremony here in Base Camp. We are lucky to have one of our climbing Sherpas Pasang, who is a Lama, perform our teams blessing ceremony. A few glasses of rum were passed around and the Sampa was thrown to the sky as we erected our prayer flags waving over our camp. The rest of the day was kind of a rest with several monopoly games and cards.
Today we got down to the first order of business with regards to climbing. While our Sherpa team climbed to C1 and C2 to bring tents and supplies, the group practiced walking across ladders with crampons here in base camp to get ready for the Icefall when we go up. Tomorrow on the 16th we will take some run throughs on a fixed line in the ice pinnacles near camp so we are all on the same page with our transitions on fixed lines. Our team is quite experienced and so this is all second nature for the group, but good to get the rust off either way. Before we do a dry run partially up into the ice fall in a couple days. We will start thinking of our first real camp one rotation up on the mountain in a few days and will update the blog after our first rotation. So for general day to day progress and photos be sure to check out the Mtn Pros Instagram and Facebook accounts which we update more regularly. Cheers for now!